Retailer outlines its work following win at Fairtrade Global Awards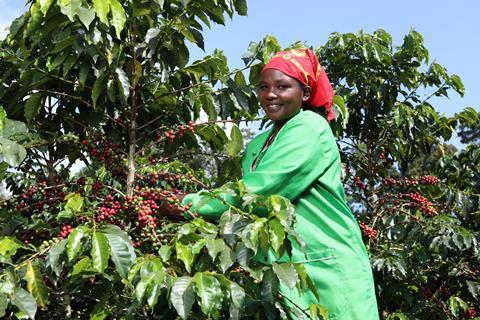 The Co-op has highlighted its efforts to support farmers' role in fighting the climate crisis.
The convenience retailer was this week named 'Climate Leader' of the year at the first Fairtrade Global Awards for its commitment to "innovate and generate impact to tackle the climate crisis".
The judging panel comprised of farmers, workers and representatives from the three Fairtrade producer regions of Africa, Latin America and Caribbean and Asia and the Pacific.
The Co-op noted that it was awarded the title after investing over half a million pounds to help farmers in its supply chain in Kenya, Ethiopia, Rwanda, Dominican Republic and Colombia to better mitigate against the impact of the climate crisis.
Under its Climate Plan, so far more than £500,000 has been invested by the retailer and its partner suppliers to help implement climate-smart farming techniques designed to strengthen and mitigate against climate shocks, crop diseases, the rising cost of living, food insecurity and natural disasters, as well as promote sustainable production and diversification.
Where is the Co-op working?
The Co-op said it was the first UK retailer to invest in Fairtrade Africa's climate strategy, co-founding the Fairtrade Alliance for Climate Smart Supply Chains in Africa (FACSCA). This programme has been working with 12 at-risk producer organisations in the tea, coffee, and flower supply chains to support them to take meaningful action against climate change.
In partnership with its supplier and the CLAC Fairtrade Producer Network, the retailer has also been supporting smallholder banana farmers in the Dominican Republic and Colombia since 2019 to help support work to improve fertility and productivity of banana farms in a sustainable way.
This has seen smallholder farmers' incomes increase and the environmental footprint of banana production reduced, the Co-op explained, along with increased resilience to diseases and climate change through more resilient soil. The biological diversity of the soils has increased by more than 600%.
'Humanitarian crisis'
Guy Stuart, director of technical, agriculture and sustainability at the Co-op, said: "The climate emergency is as much a humanitarian crisis as much as an environmental one. That's why we put people at the heart of our plan, pledging to support producers on the front line of the climate crisis.
"Now more than ever, the challenges that are facing farmers are stark and we need co-operation at the heart of our collective responses to equip producers with the tools to sustain themselves and their communities for long-term food security.
"That's why we continue to invest to support the climate adaptation and resilience of producers who are unproportionally impacted and we're pioneering farmer-centric climate adaptation programmes with Fairtrade. We're proud to have been awarded the Climate Leader award in the first ever Fairtrade Global Awards."