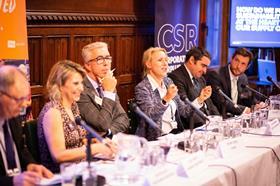 Food redistribution organisation Company Shop Group redistributed the equivalent of 60 million meals in 2019.
Company Shop Group chalked up 25,179 tonnes of surplus food and drink saved from waste, which was used instead to provide discounted food for customers, including much of the public sector.
The group's efforts helped cut costs for public services such as the NHS and emergency services who saved on average 53 per cent off normal retail price shopping with the Group.
This resulted in a massive saving of £53 million across the membership base, helping to stretch family budgets even further.
Helen Dickinson OBE, chief executive officer of the British Retail Consortium, said: "Similarly to the BRC, Company Shop Group has been at the forefront of the sustainable business agenda for over 50 years, helping retailers, manufacturers and brands redefine and minimise waste at every stage of their processes. Where the supply chain faces challenges with their surplus, Company Shop Group has long been providing solutions.
"The 2019 sustainability report demonstrates how Company Shop Group has been dynamic and responsive to the increasing demand from industry. This is a celebration of the positive impact of great partners and collaborations and I urge the industry to keep working together to help build the more sustainable future we all strive for."
The announcement follows the release of the Group's latest impact report, Corporate Surplus Responsibility, which tracks the environmental, economic and social impact delivered by Company Shop Group across the industry and within the communities it serves across the UK.
Over the last decade, the Group reported it has returned well over £125 million to the industry by purchasing surplus stock from the FMCG supply chain. In the last year alone, Company Shop paid its retail and manufacturing partners over £18.2 million by unlocking valuable surplus stock within the waste stream.
Reflective of the Group's significant expansion over the last 12 months, with the opening of its first Scottish store in Renfrew, the substantial extension of its Corby superstore and the launch of its first social supermarket in the North West in Halton, the Group is now an employee of choice for over 837 colleagues across England and Scotland.
John Marren, chairman and founder of the Company Shop Group: "Since our last impact report, I challenged everyone, including myself, to do more to be the best we can be for our industry, our people and our planet. I am incredibly proud and grateful for what we have achieved at Company Shop Group over the last year, as evidenced with our Corporate Surplus Responsibility report, and I remain very excited about what is still to come.
"It has been a phenomenal year for us, having won our second Queen's Award for Enterprise in the Sustainable Development category and most recently opening three new sites at the close of 2019. We therefore have more stock, more stores and more members at the top of our agenda for 2020 and I look forward to working with all our colleagues and industry partners to keep increasing our impact, as we aim for extraordinary every day."