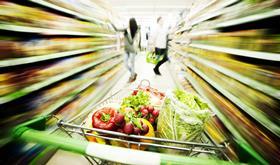 Shopping habits are changing as consumers adapt to coronavirus restrictions.
New figures from Kantar show that on average households shopped only 14 times for groceries over the past month, a record low and down from 17 in normal times.
That tallies with comments made by Tesco chief executive Dave Lewis this week, who said that people have reverted to shopping behaviour more common 15 years ago, when they made larger, weekly shops rather than 'little and often'.
Take-home grocery sales in Britain increased by 9.1 per cent in the 12 weeks to 19 April as consumers settled into life under lockdown and stocked up on food and household essentials, according to the latest figures from Kantar. While grocery sales are high, however, the data analyst noted it remains a challenging market for retailers as social distancing restrictions and low footfall will have had a knock-on effect on non-grocery categories.
A drop in frequency was matched by a corresponding uplift in the amount spent on each trip to £26.02 – easily the highest figure ever recorded by Kantar and £7 greater than last year.
Year-on-year grocery market growth of 5.5 per cent over the past four weeks is noticeably slower than the 20.6 per cent recorded in March, Kantar said.Nevertheless, sales this month were still £524 million higher than they were in April 2019.
The rise is primarily down to changing habits, as people adapt to a new way of living, for example the number of lunches eaten at home has nearly doubled under lockdown. However, for the grocers the increased sales will have been partially offset by a fall in on-the-go food and drinks sales, which were worth more than £350m in April last year.
Fraser McKevitt, head of retail and consumer insight at Kantar, said: "Grocery retailers and their staff have been rightly praised for keeping the nation fed and watered during the coronavirus pandemic. People are spending more time at home and eating fewer meals out of the house, which has led to a strong growth in take-home grocery sales. But social distancing also means that expenditure on other categories like clothes, food bought on the go and general merchandise will have been considerably lower, so for some retailers, the overall picture will be more modest."
People heeding government advice to stay home saw demand for online grocery shopping soar, with shopper numbers up by a quarter. Online sales now account for 10.2 per cent of overall grocery, versus 7.4 per cent last month, with the greatest increase among older shoppers. Although not traditionally big users of e-commerce, over-65s spent 94 per cent more on deliveries than they did a year ago.
Co-op enjoys market share boost
In the 12 weeks to 19 April, all 10 major supermarkets increased take-home sales as shoppers firstly stocked up in preparation for lockdown, then fell into their new routines. These increases will have been partly offset by the reduction in other sales, such as lunchtime and on-the-go snacking.
Co-op's market share rose to 6.7 per cent, up from 6.1 per cent last year as sales grew by 20 per cent.Independent and symbol retailers, such as Spar and Londis, also benefited from changing shopping patterns, with growth of 40.5 per cent. Meanwhile online specialist Ocado grew by 19.4 per cent.
Spending at Sainsbury's was 8.4 per cent higher than this time last year, and 7.2 per cent higher at Tesco. Morrisons and Asda saw increases of 4.3 and 3.5 per cent respectively. At Iceland sales rose by 16.6 per cent and at Waitrose by 9.4 per cent.Lidl sales increased by 14.8 per cent and Aldi saw growth of 8.8 per cent.