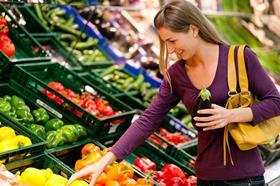 Supermarkets suffered their first overall decline in sales in three years as they failed to live up to last year's world cup splurge.
Year on year supermarket sales fell by 0.5 per cent in the 12 weeks to 14 July, which is the first decline in the supermarket sector since June 2016, according to Kantar data.
The dip was expected by retailers after last summer saw a prolonged heatwave, a world cup and a royal wedding drive sales for supermarkets.
Aldi continued its ascent however by capturing further market share which now stands at a record 8.1 per cent, with the Lidl the fastest growing bricks and mortar during the period.
Fraser McKevitt, head of retail and consumer insight at Kantar, said: "It was a challenging 12 weeks for all the major grocers, with growth slowing at every supermarket except Ocado.
'The main factor behind the sales drop-off is shoppers heading out to stores less often. Last year people shopped more frequently and closer to home as they topped up the cupboards while enjoying the sunshine and the men's football World Cup.
"This year households are making one fewer trip, which may not sound like much but is enough to tip the market into decline. In addition, like-for-like grocery inflation fell marginally to 0.9 per cent, which is good news for consumers but has made it harder for retailers to achieve value growth."
The big fall in sales of alcohol and drinks were the main drivers behind the sales drop, but fresh ranges fared better with Tesco doing well on its 'Farm Brands' and 'Exclusively at Tesco' lines, which grew 11 per cent.
According to Kantar, Ocado was the standout performer in sales comparisons, increasing sales by 11.9 per cent, and growing its shopper base by six per cent over the past year.
The growth was attributed to its business model, which is not affected by shoppers cutting back on unplanned and smaller trips.
Sainsbury's sales dropped by 2.3 per cent this period, corresponding to a dip in its market share of 0.3 percentage points to 15.3 per cent, while Asda's sales were down two per cent. Morrisons also saw a drop in sales of 2.6 per cent.
Fraser McKevitt added: "Morrisons continues to sell more on promotion than any other retailer. Currently 47 per cent of spend through the tills is linked to a deal, and this proportion is still increasing in contrast to many of its rivals. In addition, confectionery sales at Morrisons outperformed the already buoyant market."
Iceland sales fell by 1.5 per cent, with its market share staying flat at 2.1 per cent. Meanwhile, sales at Waitrose declined by 1.9 per cent and the retailer's market share did not move from 5.0 per cent.