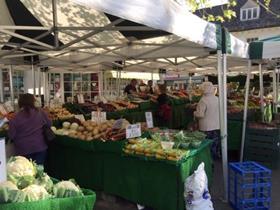 An Oxfordshire council has stopped charging rent to fruit and vegetable stalls at a local market to help traders, with councillors saying it was 'the obvious thing to do'.
Traders at Witney Market said the decision had been "warmly received" after business declined due to coronavirus travel restrictions and social distancing measures.
West Oxfordshire District Council said it decided to intervene to help the business owners, by waiving the rent for a period of three months until the lockdown is lifted and trading returns to normal.
Darren Smith, who runs four units at the market selling fruit and vegetables, said: 'This has made an immense difference. Market traders are experiencing a time of hardship at the moment and this decision has been warmly received by my colleagues.
"We will be here Thursday and Saturday to support the people of Witney in this difficult time.'
Cllr Toby Morris, cabinet member for resources, said: "We recognise this is an extremely difficult time for traders on Witney Market and we salute their resilience in keeping the market open.
"Waiving the rent for three months seemed an obvious thing to do and hopefully it will help maintain a market presence every week until the crisis is over."
The council urged residents on Twitter to 'continue to support them at this difficult time'.