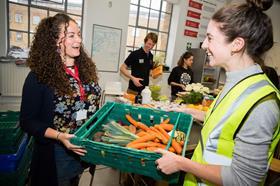 Economic hardship caused by Covid-19 has driven a substantial increase in food bank usage, new figures show.
According to a report by the Food Standards Agency, there was a seven per cent rise in food bank usage in May, a 10 per cent increase in June, and nine per cent in July. Usage was highest among younger people, households with children, those with a physical or mental health condition and those who are shielding or suffering with Covid symptoms.
The report concludes that increased food bank usage was primarily due to economic hardship, with 25 per cent of those surveyed stating they had lost their job, 20 per cent on furlough, 27 per cent reporting a delay or problems with benefits, and 20 per cent stating they simply did not have enough money.
Self-isolation and shielding (26 per cent) and difficulties in travelling to get food (26 per cent) were also cited as reasons.
FSA chief executive Emily Miles said: "Our research shows that our food habits changed rapidly in lockdown and that food insecurity has become an issue for many people. These findings have implications for many aspects of government policy such as food safety, nutrition, welfare, health and education.
"We continue to work with governments, the private sector and civil society in the consumer interest so that we can all have the food we can trust."
Fresh produce companies have been doing their bit to help out, with G's recently revealing it had contributed enough surplus veg to FareShare to create one million meals for vulnerable people.