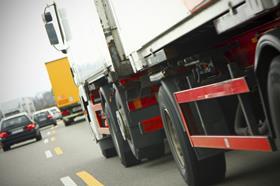 Hauliers and seasonal workers entering England from outside the UK will need to take a coronavirus test within 48 hours of their arrival, under new rules set out by the government.
Those who stay in the UK for more than two days will have to take another test every three days.
The new testing regime, announced by transport secretary Grant Schapps, is designed to protect the UK from the spread of the virus and to help prevent new variants from entering the country. The new rules come into force from 6 April.
Yvette Cooper, the Labour chair of the Commons Home Affairs Committee, said the government was again acting too late.
The regulations come almost two months after concerns were first raised in France about the spread of the South African variant, and over three months after hauliers leaving the UK started to be tested.
But Logistics UKemphasised that haulage drivers are "a very low-risk category" when it comes to transmitting Covid-19. According to the logistics trade body, only 0.1 per cent of haulage drivers have tested positive since the start of the pandemic.
"It is worth remembering that drivers are, by the nature of their jobs and thanks to contactless delivery procedures, a very low-risk category," said Sarah Laouadi, European policy manager at Logistics UK.
She said it was "vitally important" to protect the UK and its "highly interconnected supply chain" from the threat of new Covid-19 variants, but said any testing regime "must be proportionate and not discriminate against those who are tasked with keeping British businesses and consumers stocked with the goods and services they need".
She added: "We would urge the government to maintain a watching brief on the testing regime to ensure it remains appropriate and reacts to the situation on the ground."