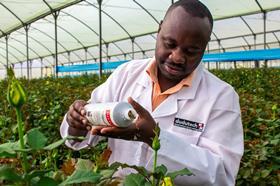 Tracking environmental conditions, such as humidity, temperature and light levels, is key to getting better control from biofungicides, latest research shows.
The effectiveness of biopesticides is highly dependent on a complex range of factors, from temperature, the population of pest or disease present in the crop, through to the way in which the product is applied.
Research in the AMBER project, funded by AHDB Horticulture, is urging growers to use data to build up their experience and knowledge of how biopesticides perform in different conditions.
Grace Emeny, knowledge exchange manager at AHDB, said: "Keeping a log of the environmental conditions in which biofungicides are applied to the crop and taking note of how well it controlled the disease is important data that will help growers gain experience and confidence in using these products."
Biopesticides are crop protection products based on living micro-organisms or natural products.
Further research within AMBER has shown that biofungicides can survive for different lengths of time, depending on the amount of disease present in the crop. The active ingredient in AQ10, a biofungicide used to manage powdery mildew, requires the disease to be present in order to survive and control it. In contrast, the active ingredient in Prestop to control botrytis can survive without the host disease.
DavidChandler, associate professor at the University of Warwick, said: "Biopesticides are only getting more important for sustainable integrated pest management. They can be more complex than conventional plant protection products, and it's important that growers understand the many factors that can impact their effectiveness at controlling pests and diseases.
"Timing your application based on knowledge of the factors that may impact biopesticide performance and using this with data about your environment to spray is so important to a successful control programme."
AMBER, which stands for Application and Management of Biopesticides for Efficacy and Reliability, is a five-year project worth £1.2m designed to help growers make the best of their biopesticides.
Two events are being held to share the latest information from the AMBER project to help growers get the best from their biopesticides. Protected edible and soft fruit growers are invited to Warwick Crop Centre, Warwickshire on 10 December 2019, and an event for field vegetable growers will take place on 5 February 2020. To book your place, visitahdb.org.uk/events.