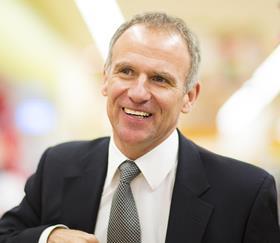 Tesco Group CEO Dave Lewis announced his shock departure from the company today after five years at the helm of Britain's largest supermarket.
Lewis will stand down from his role next summer, with Tesco already having a replacement lined up in former Boots COO Ken Murphy.
Tesco shares dropped at the news before recovering to usual levels, in response to the departure of the man who has "transformed" the retailer's fortunes, according to Tesco chairman John Allan.
Tesco's image had fallen to an all time low when Lewis took over following accountancy and horse meat scandals, as well as poor relationships with suppliers.
Allan said: "Under Dave's leadership Tesco has transformed customer satisfaction and rebuilt the business. We can now move forward with renewed confidence."
Lewis said that his decision to stand down was "a personal one" and that the Tesco turnaround "was complete". "I believe that the tenure of the CEO should be a finite one and that now is the right time to pass the baton," he said.
"We have delivered all the metrics we set for ourselves. The leadership team is very strong, our strategy is clear and it is delivering. The Tesco brand is stronger and customer satisfaction is the highest it has been for many years. Colleagues are doing an extraordinary job and their expertise shows in every store and channel every day."
One of Lewis' major moves as CEO was the launch of a discount store Jack's, in response to the rapid rise of German supermarket brands Lidl and Aldi.
Lewis also established new working practises with suppliers following a damning GCA report related to supply practises in 2013, which highlighted "widespread" delay in payments.
Lewis famously apologised after the report saying: "We drew a line under that past, we retrained everybody in our business to a new way of working. We apologise both privately and publicly to suppliers, in an industry forum and we apologise again for our behaviour in 2013."
In response he rolled out the Tesco Supplier Network allowing businesses to better interact with the supermarket.
"Dave has done an outstanding job in rebuilding Tesco since 2014 and he continues to have unwavering support from the Board. Some time ago, however, he indicated to me that he was considering the best time to hand over to a successor," Allan said.
"His openness allowed me to begin a thorough and orderly process to identify a potential candidate to replace him. As a result, today, we have appointed Ken Murphy to succeed Dave as Group CEO of Tesco next summer."