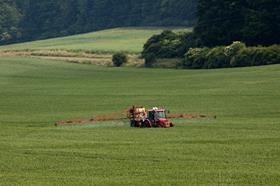 Defra has announced it will host a crisis planning meeting with farmers about surging fertiliser prices in a bid to reduce the impact of rising costs on food production.
Quotes for ammonium nitrate fertiliser have reached as much as £1,000 a tonne in recent weeks, up from £280 a year ago.
The cost of fertiliser first rose due to the increase in wholesale gas prices and the war in Ukraine has pushed prices higher by disrupting exports from Russia.
This caused panic buying from some growers amid fears the price of fertiliser would keep increasing.
Defra is set to host a roundtable meeting with industry bodies this week, chaired by farming minister Victoria Prentis, to discuss ways of managing the soaring prices.
The meeting will explore alternatives to ammonium nitrate fertiliser, including options produced from organic material, as well as using traditional farming practices where crops are gown without fertiliser.
For example, there is talk of Defra paying farmers to sow nitrogen-fixing plants, such as legumes and clovers, to bring down their dependence on manufactured fertilisers.
In addition, Defra secretary George Eustice announced that changes to the use of urea fertiliser will be delayed by at least a year to help farmers manage their costs and adapt to pressures on the supply of ammonium nitrate fertilisers.
A consultation on restrictions was launched a year ago, in order to reduce ammonia pollution in the air. And when restrictions are introduced, they will include the use of ammonia inhibitors rather than a complete ban.
The alternative approach will mean scheme members can only use untreated or unprotected urea fertilisers from 15 January to 31 March each year. They will be allowed to use urease inhibitor-treated or protected urea fertilisers throughout the rest of the year.
Revised statutory guidance has also been published on how farmers should limit the use of slurry and other farmyard manure at certain times of year.
Commenting on the decision regarding the use of urea fertiliser, NFU deputy president Tom Bradshaw said:"Spiralling input costs are impacting on all farmers and growers with nitrogen fertiliser now costing almost five times as much as it did this time last year and soweare pleased that Defra has agreed to our calls for a delay to the roll-out by a year until 2023 due to current market conditions.
"Through the involvement of Red Tractor, the industry has avoided the proposed outright ban on urea fertiliser which means that farmers and growers will continue to have the flexibility to use the right product at the right time."
Nevertheless, some farmers, who are already facing increased fuel costs, have warned they will offset the higher prices by buying less fertiliser, which could lead to lower crop production.
Defra secretary George Eustice said: "The significant rise in the cost of fertiliser is a reminder that we need to reduce our dependence on manufacturing processes dependent on gas.
"Many of the challenges we face in agriculture will require a fusion of new technology with conventional principles of good farm husbandry.
"The measures we have announced today are not the whole solution but will help farmers manage their nitrogen needs in the year ahead."