Dominic Raab and BSPB CEO Sam Brooke discuss plant breeding and the Precision Breeding Bill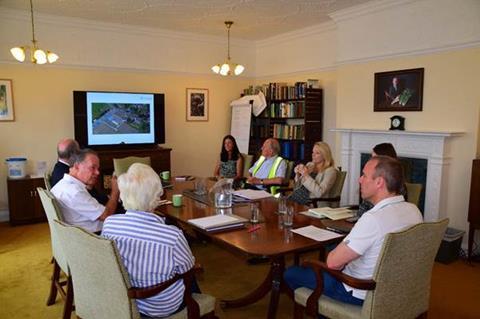 Deputy prime minister Dominic Raab has visited the HQ of Tozer Seeds.
Raab and Sam Brooke, the chief executive of the British Society of Plant Breeders, were both hosted by the UK-based vegetable seed supplier last week.
"During the meeting we discussed the Precision Breeding Bill, which we hope will unlock the potential of new breeding technologies," said Tozer MD Steven Winterbottom. "We also discussed the effects of unprecedented cost increases and the labour shortages on the wider industry."
Plant breeding, which the company points out contributes to sustainability and food security, was a key topic for discussion at the meeting. With the pressures of climates change, the reduction in available chemicals to growers and labour shortages, Tozer said it is vital to produce varieties that are drought tolerant, resistant to disease and able to be machine harvested.
Dr Jamie Claxton, director of R&D, explained: "Plant breeding is the heart and soul of the company. Tozer continues to innovate and is collaborating strongly with vertical farming companies. We aim to improve varieties, through plant breeding, specifically for this environment. There are huge sustainability advantages in the use of vertical farming: carbon neutrality, optimised conditions producing faster harvest and reduction in 'food miles'."
Since producing new varieties takes many years, Tozer is investing in speed-breeding infrastructure to facilitate faster breeding with a reduction of inputs. The company said it is encouraged to see that the proposed amendments made to the Genetic Technology (Precision Breeding) Bill will assist in its breeding aims.
Tozer drew Raab's attention to the stark disparities in government funding research projects in the agricultural sector. The Farming Innovation Programme 2022-2029, with a focus on improving farm-level productivity, sustainability and resilience, has a fund of £270 million, while the annual government investment in Genetic Improvement Network for vegetables is just £270,000.
Tozer director Dr Frances Gawthrop said: "The difficulties of plant breeding research projects are the relative short timescales. There is no mention of any long-term vision for targeted R&D investment and no commitment to a strategic crop genetic improvement. We are delighted to have had the opportunity to raise this with Mr Raab as this type of research is essential in the world today."