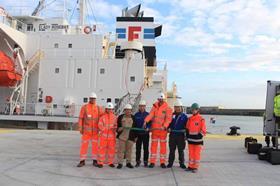 The Port of Dover has opened its new cargo terminal, offering a boost to the fruit and vegetable trade.
The new Dover Cargo Terminal West officially opened on Sunday 8December as cargo from the Seatrade vessel Lady Rosebay was processed through the facility. The terminal is now completely operational after five years in the making.
Fresh produce will be among the key commodities transported through Dover Cargo West and builds on the port's established trade in perishables from Central and South America. Lady Rosebay is the first fresh produce reefer to use the new facility.
Nik Scott-Gray, general manager of Port of Dover Cargo, said: "Today heralds an exciting new chapter for Port of Dover Cargo – it's amazing to see the new terminal fully functional and processing such a large variety and volume of cargo using equipment, warehousing and IT systems.
'The Dover Cargo business is long established as one of the best in the industry and I'm thrilled that we can now take it even further with the endless opportunities that the new terminal brings us."
Port of Dover Cargo said it has seen an expansion in its customer base in recent months as new and existing customers begin to make use of various features of the new facilities, including an additional multi-purpose berth.
Barbara Buczek, chief commercial officer at the Port of Dover, added: "I'm incredibly proud of the whole team for delivering this huge milestone moment for the port. Port of Dover Cargo plays a major role in the success of our whole business, and I'm so pleased to see our wonderful new facility taking it to new heights."