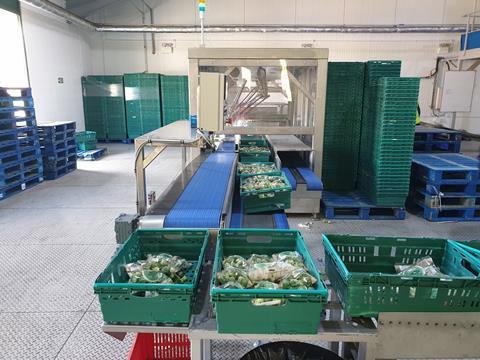 Vegetable supplier Drysdales has finished automating its sprouts packing line in response to labour shortages that continue to hurt fresh produce businesses.
The company, based in the Scottish Borders, grows 50,000 tonnes of fresh vegetables a year – mainly swedes, sprouts and leeks – for British supermarkets. It supplies sprouts year round, growing 900 acres – more than any other company in Europe – as well as being the largest peeler and the first company to operate a semi-automated peeling line.
In 2019 Drysdales decided to overhaul its production process by making its packing line fully automated, switching from manual labour, and installing Brillopak's UniPAKer robot.
The line is comprised of a vertical bagging machine, metal detector, checkweigher and crate packing system, all located on a mezzanine floor. It's the first time Drysdales has automated crate packing on its sprout processing lines, a decision driven largely by concerns about future labour supply.
"No-one else is using a machine like this to pack sprouts into crates; this investment fits with our business philosophy of harnessing innovation in farming and production methods in order to stay at the top of our game and deliver the best quality produce and service to our customers," said Drysdales' farming and facilities director, Ian McLachlan.
"On all of our lines we were relying on manual labour to pack bags of sprouts into crates. However, with Brexit, we foresee a potential labour issue. The time was right to invest in a machine that could perform this task."
The automatic packing line was able to provide a return on investment quickly thanks to its ability to load bags of sprouts into crates at 75 packs per minute.
The machinery uses a combination of vision technology and suction heads to recognize and orientate the irregular shaped packs of sprouts.
One of the challenges of automating this operation was the number of possible pack and crate configurations. Sprouts are packed in a variety of bag sizes, from 200g up to 500g, and each retailer has their own crate format requirements.
"We needed the flexibility to accommodate different pack sizes and crate lengths, whole and half crates, landscape and portrait layouts and different volumes - from 10 packs up to 25 packs to a crate," said McLachan.
Fortunately, Brillopak's UniPAKer robotic pick and place cell was originally engineered for packing bags of potatoes and apples into crates.
"We had never tried using the UniPAKer to handle sprouts before, but we knew that we could do the job. The challenges were the same as with potatoes – how do you pick and place flexible bags containing small, moving spherical products at speed with accuracy?"said David Jahn, director at Brillopak.