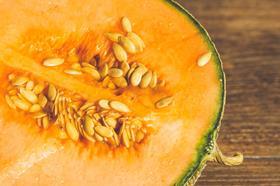 Planted area for Charentais melons has remained stable across France, Spain and Morocco this season, with favourable conditions in all growing areas expected to deliver a strong and largely early harvest.
That was the message from the Provence Association of Vegetable Research and Experimentation (APREL), which delivered its melon-production forecast at the annual Medfel trade show in Perpignan.
There will be little change in the overall planted area, which will decrease slightly in France and Morocco, and expand slightly in Spain.
There will be a smooth transition from the end of the Moroccan season to the start of Spanish production in May, and there is expected to be both Spanish and French product available at the end of May and into June, depending on the climate in Spain and how the fruit sets on early plants in France.
Of the three countries, France has by far the largest production of Charentais melons, although it lags way behind Spain in overall melon production when all varieties are considered.
This season, the total planted area for Charentais in France has fallen slightly to 12,450 hectares, however there has been a marginal increase in the surface area dedicated to organic production.
Production has fallen to 4,100ha in central western France, but it has remained stable in the south west and south east, at 2,500ha and 5,600ha respectively.
Good growing conditions are expected to bring forward the season in the south east, with no delays expected in the west or south west.
Spain, which has the second-largest planted area, at around 5,000ha, has seen its plantations expand slightly in Murcia-Alicante, its dominant production zone, with fewer concerns around water availability than last year.
Plantations in Murcia-Alicante have expanded to 4,000ha, 80-90 per cent of which will be yellow Charentais, while production in Malaga-Seville (yellow Charentais) and Almeria (green Charentais) remains stable at 600ha and 300ha respectively.
This year, growers in Murcia-Alicante have been pushing for an early harvest by planting from the beginning of February, APREL reports, and favourable growing conditions in February and March during planting brought the season forward somewhat.
Unfortunately, cold and wet weather in April slowed the plants down again, with harvesting starting at the end of April and the beginning of May. Peak production will come in the second half of May and into June, with some growers stretching into July and August.
APREL warned that very heavy rains at the end of last week could affect plants, particularly those whose fruit is still setting.
Finally, in Morocco, which kicks off the season and where peak production is now over, planted area has decreased slightly to around 1,500ha across the country.
The area surrounding Marrakech, where the majority of Moroccan production is based, remains stable at around 1,100ha, with 50-60 per cent of the crop grown in glasshouses and 90 per cent of production dedicated to green rather than yellow Charentais.