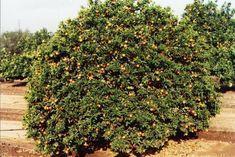 Egypt has shown itself to be a rising star in the production of citrus and berries, both of which play an increasingly prominent role in the UK's winter supplies.
As exports continue to increase, facilities, infrastructure and quality assurance schemes have improved immeasurably in the last few years and positive predictions for this season should ensure Egyptian produce remains firmly in the spotlight.
Citrus is one of the country's greatest successes notably because of its ability to supply produce for an extended season. The first Navels hit the UK market in November and continue until mid-March. Valencia's are available from April until August and lime is supplied almost continually throughout the year.
Egyptian citrus production ranges between 2.3-2.5 million tonnes a year says Hassan Marei, general manager of the Marei orchards and nursery. "This season, although there is really no accurate forecasting method for evaluating crops, production is expected to exceed 2.5mt."
Egypt has a wide citrus portfolio and the main varieties produced are Navels, Valencia, Baladi, blood orange, a local variety of Mexican lime, Sukari, and some grapefruit. "There is a new trend for planting clementines," says Marei, "although the Egyptian consumer is not yet used to the smaller-sized fruit that is now being planted. It has much more of an acidic taste than the predominant local mandarin. The local variety is an average size and quite sweet in taste, but contains a lot of seeds and has a limited shelf-life period."
Egyptian consumers are also reticent when it comes to grapefruit. "Unfortunately the Egyptian consumer has not acquired a taste for it and therefore production is limited to localised consumption by tourists," says Marei. "In terms of limes a local variety of Mexican lime is the most favoured. It is small in size and has a good, acidic juice content. Although there have been some attempts to produce other types of limes, this has only taken place on a very limited scale, as has the production of lemons such as Eureka."
Oranges make up the bulk of Egyptian citrus production by far with 62 per cent of the citrus portfolio. Tangerines come second with 27 per cent, limes make up 11 per cent, grapefruit 0.6 per cent and the remaining one per cent, says Marei, is made up of sour orange for rootstock seeds and industrial-use marmalade as well as other citrus varieties.
As produce that is acceptable for export becomes more important, new varieties have been added to the mix. "The majority of citrus production is in round oranges," says Marei, "and this includes Navels that originate from the Washington navel. Lately new varieties such as Newhall, Navelina and Lanelate have been added and there are more varieties currently in evaluation. In terms of Valencia, the majority of production is made up from local varieties and Olinda, but a new variety programme is in progress to evaluate other varieties."
This year's orange crop has enjoyed a largely trouble-free season. "Owing to excellent weather conditions Egyptian oranges have a very good flavour this year with a favourable sugar to acid ratio and the colouring is of a very high standard," says Marei. "Our only weather-related setbacks are the strong, sandy desert winds that sometimes occur during the flowering season. These are known as Khamaseen winds and they cause considerable damage and a huge loss of production, but fortunately this year has passed with very little damage."
Egyptian citrus production is also fortunate, Marei continues, in that it is not prone to serious disease. "Virus diseases such as the Citrus Tristeza virus, Witches' Broom, Greening and Canker are virtually non-existent in Egyptian orchards," he says. "We mainly have Psorosis, Phytophthora and Stubborn which can effect yield but do not have a devastating effect on the industry. In terms of insects we have the usual citrus pests such as Leaf Miner, Scales, Mites and Thrips, but these all are within manageable parameters."
In addition to relatively low incidences of pests and diseases, a great proportion of Egypt's success in the production of citrus can be put down to the investment in new lands for production. In the past the Egyptian Delta, characterised by a clay-type soil was the largest growing area, taking up 72 per cent of the total planted citrus area but the planting of desert land witnessed a big boom in the 1980s and is still going strong. "Large new areas are currently being planted with citrus, mainly Navels, Valencias and a few clementines," says Marie. "Volkarmeriana rootstock is the main rootstock used in the new desert land."
Citrus constitutes 36.7 per cent of total fruit production in Egypt, says Marei, and it is an increasingly important generator of foreign exchange. With 72 per cent of production concentrated in the Delta and 28 per cent in the desert, Marei explains: "Currently our average production per area is relatively low compared to the world average. Three years ago the Egyptian government embarked on a national citrus certification programme and it is hoped that by the end of this that only true-to-type and virus-free material will be used for future trees. When this has been achieved, Egyptian output should double, at least, using the same area of orchards. In addition to this new varieties will be introduced that will have strong potential for exports."
"Egypt has an excellent potential," says Raouf Abdel Rahman, counsellor of economic and commercial affairs at the Egyptian Embassy in London, "and Egyptian oranges and strawberries are always in demand. Many studies are been conducted to get better yields for both citrus and strawberries and the total production area for citrus has slightly increased to reach nearly 140,000 hectares this year. Projected quantities for citrus could therefore exceed 2.6mt with the total production for oranges at 1.4mt. A large proportion of that will come from Navel and Valencia, but other varieties are also becoming more popular."
Europe has strong export potential for Egyptian citrus owing to a free trade agreement with the EU. "There is a ceiling on the amount of duty-free Egyptian citrus allowed to be exported to EEC countries and this currently stands at 50,000t," says Marei.
Other export markets are also well established. "I would estimate the EU and UK receive 11 per cent of Egyptian citrus exports while Arab countries get 60 per cent," says Marei. "Russia, Ukraine and some Eastern bloc countries receive 25 per cent of our exports while Asian countries, including Hong Kong, Malaysia, Indonesia take just four per cent."
One of Egyptian citrus's main advantages in the UK market is its season. Available from November until May, Egyptian citrus, says Marei, ripens much earlier than Spanish, Turkish and Italian fruit and is slightly earlier than Israeli fruit, although it does coincide with Moroccan production times. In line with increased production citrus exports have grown significantly year-on-year. From 200,000t in 2000/01 season, to 412,000t in the 2002/03 season, this year exports are expected to further increase by an additional half a million tonnes. "The floating of the Egyptian pound has increased the exporters' competitive edge and as a result the export price for this season is expected to be lower for the current season," Marei says. "The main exporters, backed by the Ministry of Agriculture and the Ministry of Foreign Trade have embarked on a promotion marketing program that has resulted in the annual increase of exports during the past few years and that same program is still being implemented to achieve even higher export figures."
Undoubtedly the future looks bright for Egyptian citrus and the scale of production looks certain to expand. "We are blessed to have water available," says Marei, "as well as new land to cultivate and good weather conditions which result in excellent quality fruit. The limit of expansion and increasing tonnage per acre are boundless. New consumers are starting to see more and more of Egyptian oranges in the retail outlets and are even asking for it by name. In short, the growth potential is there, all we have to do is work harder to market an even better quality fruit at a cheaper price."
Berries are another Egyptian horticultural success. Largely dominated by strawberries, the sector is playing an increasingly important role in the UK's winter supplies. Easy access to water and competitive labour costs have seen production expand in the last five years. Many believe that in terms of quality, flavour and expansion, strawberries are one of the most successful products in Egyptian horticulture."
"More recently we have seen an increase of plantings of the better eating varieties which has been predominately driven by the more discerning UK consumer," says Ian Waller, sales director at Redbridge- AFI. "We are also excited to see samples of Redeva trial selections arriving and scoring impressive marks in our blind tasting sessions and are confident that the next generation of these high quality berries will perpetuate Egypt's position as an important winter source for strawberries. There has been a large increase within Redbridge-AFI's own supply this year and we are expecting to double last year's total.
"The Egyptian climate mirrors that of Israel which was the first choice of winter supply for many years," Waller explains. "Dry with comfortable temperatures from November until March, Egypt has a climate that ensures good quality fruit for the UK, and it is only the large production of Spain and Morocco in March which signals the end of their European export programme due to the competitive price of air freight versus road freight. Egypt continues producing until May and the Middle East becomes the main market from mid-March until the end of May."
Redbridge, or Frumar as it was then, began importing Egyptian strawberries 15 years ago from Pico, the pioneers of strawberry production. Since then production has increased on a wide scale and this year, says Waller, the season has been excellent in terms of plant establishment and weather conditions bringing on the crop. "There were some early high temperatures which helped accelerate the fruit and as a result we expect to see large volumes going into December to help fulfil Christmas demand," he says, "and the eating quality of the early fruit is undoubtedly the best I can remember."
Logistically, says Waller, there are some potential issues for Egypt due to a reduced number of weekly flights. "A general increase in the production of a number of crops means that the competition for airspace can often resemble an afternoon in the Cairo Souk."
Transportation difficulties are lessening. FJ Pirie & Company is involved in supplying rapid cooling systems for produce and now has a well-established interest and a representative in Egypt. There is, says chairman and joint- managing director Frank Pirie, a tremendous desire in Egypt to increase export markets and there are currently three major products which aim to bring together small to medium businesses, the third of which is the upgrade of a packing station with good links for sea and air freight which requires a UK partner. (For more information see the Journal's cold storage feature, January 9).
From a strategic point view it looks as though Egypt's increasingly vital role as supplier for the UK winter berry market will continue and Waller predicts an increase in strawberry production as well as an increasing focus on varietal development.
"Egypt continues to supply a growing winter demand for strawberries in the UK," says Waller, "and will, I believe, continue to supply the quality of fruit that will give consumers a taste of winter sunshine."