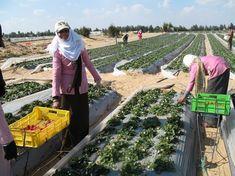 Egyptian citrus exports have gained ground in the UK over the past few years, as producers and exporters have listened to - and acted on - rallying calls for better-quality produce. The country's citrus exports are no longer seen as inferior product, compared with the likes of Spain, and ambitious targets to increase exports have been set.
However, this season's citrus production is expected to decline by 10 per cent to 2.51 million tonnes, compared to 2.79mt grown in 2007-08. This is mainly because Egypt experienced unusually high temperatures earlier in the year, with the thermometer reaching 37ºC in April - some 7ºC higher than normal.
Perhaps the smaller crop would not be such a big deal if Egypt's main rivals were also producing smaller volumes. As it is, however, Spain, Morocco, Turkey and Israel are all forecasting larger crops.
Spain is expected to enjoy a 23 per cent jump in citrus volumes, up to 6.54mt from last season's 5.33mt, while Moroccan volumes are set to rise 10 per cent to 1.35mt. Turkey's citrus crop is projected to rise four per cent to 2.4mt and Israel is also anticipating a four per cent rise in its crop to 547,000t.
But despite Egypt's smaller citrus crop, Dr Ihab Tadros, chairman of the Egyptian Producers' Consortium (EPC), is cautiously optimistic about the forthcoming season. "Although other countries in Europe are producing large volumes, the size of the fruit is going to be smaller," he says. "We have a smaller crop but larger-sized oranges, and we could make export gains this season."
Indeed, ambitious plans are underway and Tadros tells FPJ that Egypt's target is to export 1mt of citrus this season.
Normally, Egyptian producers begin the new orange season in late November with Baladi. This variety is swiftly followed by the popular Navel, which traditionally kicks off at the start of December.
EPC has joined forces with Fresh Fruit Co to market and export oranges this season. The two companies have planted more than 1,000 acres of key citrus products, including Navel, Valencia and Baladi oranges, as well as mandarins and grapefruit. "Our new packhouse, which is located in the reclaimed desert land between Cairo and Alexandria, will begin operating in January," Tadros tells FPJ. "The new packhouse will be able to handle 30,000t of citrus a year."
Oranges comprise more than 75 per cent of Egyptian citrus production, with the remaining 25 per cent of volumes consisting of easy peelers, lemons and grapefruit.
It is a mixed bag for oranges this season, according to Prag Mistry, from Fruitmann - which represents Egyptian exporter Sonac in the UK - who spent six days in Egypt earlier this month. "Although some data indicates lower forecasts for 2008-09, information on the ground indicates similar volumes to last year," he tells FPJ. "Early varieties like Baladi may be lower, but the Valencia crop looks bigger than last year."
Sonac has aimed to have fruit in the UK market by mid-December. However, according to Mistry, with significant overhang of South African fruit in the market, the firm does not anticipate handling oranges until the end of December.
Egyptian citrus exports have risen year on year for the last few seasons. Last season, Egypt exported 802,000t of citrus. The bulk of volumes - some 400,000t - were exported to the neighbouring Arab countries and 250,000t were shipped to Europe, while Russia takes the remaining 150,000t.
Having made gains in recent times, exporters are also hoping to target the markets in China, Australia and South Korea in the future.
Producers have ploughed significant funds into turning deserts into fertile land where fruit can flourish, and these developments are paying off. In addition, continued emphasis on new facilities, achieving widespread certification including GlobalGAP, BRC and ISO 22000 accreditation, coupled with improving infrastructure, have impressed observers and gone some way to silencing the critics.
Egyptian growers are developing their easy-peeler supplies, although Mistry points out that these small fruits currently represent a small proportion of the Egyptian citrus business. Volumes this season were hit by the higher-than-average temperatures.
Nevertheless, supporters are keen to emphasise that the quality of Egyptian easy peelers is rising year on year.
But while the outlook for citrus may be bright, Martin Dunnett, trading director at Capespan, predicts that Egypt could face challenging times in 2008-09. "It may be difficult for producers sending to the UK this season, with the smaller orange crop forecast," he says.
However, producers could increase their exports to other European markets, in particular Russia. Earlier this year, Spain and Russia engaged in a stand-off as Spain claimed Russia's maximum residue limit (MRL) regulations were stricter than those in Europe and it would be impossible to meet the requirements demanded. "There could certainly be an opportunity for Egypt to gain market share in Russia at the expense of Spain this season," Dunnett argues.
There has been some good news for Egypt this year, including the signing of a trade agreement with the EU in July. The long-awaited trade deal should provide a significant boost to Egypt's agricultural sector, which contributes 16 per cent to the country's GDP. The deal will give EU exporters free access to the Egyptian market for approximately 90 per cent of agricultural products, according to the European Commission. In return, the EU will open its markets to Egyptian exports, excluding a number of "sensitive" products including tomatoes, cucumbers, grapes, garlic and strawberries, where a certain level of protection will remain in place.
Meanwhile, on the berry front, weather conditions in Egypt during planting and root establishment were much more favourable this year compared to 2007, according to Ian Waller, sales director of The Summerfruit Company, a division of Redbridge Worldfresh.
"Egypt has not experienced the excessive heat of last year, which created great difficulties for growers," he tells FPJ."Early forecasts indicate that we should see a good increase in volume and a good peak to cover the huge Christmas demand."
Indeed, due to the improved weather conditions, Waller anticipates that there will be a reduced peak-and-trough pattern this season and he is hoping that good weather will prevail for the remainder of the campaign.
The Summerfruit Company plans to name and release three numbered strawberry varieties from Egypt this season. These new varieties will join its recent offerings, Red Merlin and Red Princess. "We have a number of advanced selections that are showing great promise," Waller says, adding that Susanna remains the first choice strawberry for both growers and consumers. "Redbridge has worked closely with Egypt for a number of years and has invested heavily both in varietal development and agronomy with our growers," he explains. "This investment allows us to give our customers clear and unrivalled points of difference in Egypt and the investment will continue, so watch this space."
To date, pre-season demand from customers has been good and Waller hopes that the "excellent work" that has been carried out over the past few years by the Seasonal Berries campaign in the UK will succeed in making winter strawberries a staple part of consumer diets.
There is certainly much to champion this season, but the global economic downturn means that the sector is entering unchartered territory.
It is clear that growers face the same challenges as other fresh produce sectors around the world, including an increase in labour costs and packaging, as well as a huge spike in fertiliser costs. "It is our aim to find the right retail level that will give the grower an acceptable return, while maintaining a perception of value for the consumer," Waller says.
The dramatic fall in the value of sterling in recent weeks could also throw up challenges. "Last November, we were seeing the dollar at nearly $2.10 to the pound," Mistry explains. "Currently, we are seeing sterling at about $1.50 and information indicates we could see further drops to as low as $1.35 in the coming months. With the UK in recession, many large importers with high overheads will be affected."
As transportation costs are normally fixed in dollars, Mistry also anticipates significant obstacles for imports.
Even the most bullish observer would concede that considerable challenges face the fruit sector this season. However, key producers have put in place long-term, forward-thinking plans that should boost their operations and satisfy even the most demanding of export markets.