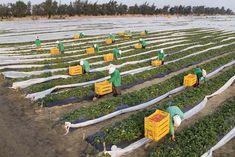 Grapes, strawberries, oranges and green beans may sound like an eclectic mix but Egypt is making headway in these high-value crops. Buoyed by the strong response to exports, producers are making huge investments in their operations.
These investments extend beyond improving storage and packaging facilities to long-term measures such as sourcing new areas of land and achieving quality standard accreditations.
In late April, producers were gearing up for the upcoming grape season and some believe they can build on the successes of previous years.
Belco increased its grape crop by more than 50 per cent in 2005 and is forecasting substantial gains in the upcoming season. Sherif El-Beltagy, Belco president and owner, described the 2005 deal as 'very successful', and it brought a series of firsts for the firm.
"Last year was our first experience with punnets for the UK," says El-Beltagy. "We used a mix of red and white breaks in punnets and for snack packs. We believe that experience will help us a lot this year, as demand for punnets in the UK has increased."
The firm is also mindful of getting a jump start on competition and has planted an earlier grape variety, which is due to be harvested on May 15, some 10 days earlier than last season.
"We have also found a higher demand for Crimson grapes, which will help us prolong our season and supply our customers for a longer period of time," El-Beltagy tells FPJ.
It's early days but Belco has reported favourable weather, although high winds have been an issue. "The grapes under plastic have not been affected. However the open fields probably would have been affected if it was not for the windbreaks surrounding the farms," El-Beltagy says. "We believe that for future seasons, having more windbreaks will be beneficial."
Belco believes that Egypt is already competitive in the UK market and enjoys a number of advantages over other supply sources. El-Beltagy says: "Egypt fulfils a gap. Shipments start when India is still exporting to the UK, but we start with better quality. Mexico also supplies at the same time as Egypt, but with a longer journey, allowing Egyptian grapes to be fresher for UK consumers."
Although grapes represent one of Egypt's most profitable exports, it is not always plain sailing.
Last season was proof indeed that too many supply sources can upset the deal. Hisham Elmeleigy of Blue Nile Egypt says an unsettling picture of lower prices and larger stocks (which hung around longer than normal) emerged in June as Egypt, Morocco and Israel all sought to make gains.
Elmeleigy believes that much can be learnt from the challenges endured last season. "As suppliers, we need efficiency in our operations coupled with high yields and early varieties to sustain a healthy operation," he says.
Blue Nile intends to start harvesting covered grapes in mid-May and the outdoor crop will be handled slightly later on June 1. Elmeleigy notes that a handful of Egyptian companies are making tremendous investments in grape varieties, location and new structures.
"This setting will provide high industry standards from farm to shelf," he tells FPJ.
The vast majority of grapes are seafreighted and Blue Nile believes that the annual rises in freight rates are unlikely to have a significant effect.
"Egypt is now looking at produce which can be delivered to Europe by sea not air," Elmeleigy explains. "Using special packaging we are optimistic we can deliver competitive prices for most of our products. Countries in east and central Africa will continue to struggle with airfreight prices at $2 per kg while we can sea freight at $0.30 per kg."
However, Belco believes that the proposed rise in transit costs results in lower returns, which affects the competitiveness of table grape exporters.
El Aguizy produces a wide range of fresh produce, including strawberries, table grapes, melons, green beans, mangetout and peas.
The leading grower-exporter is optimistic about the upcoming grape season and is planning to increase shipments to the UK this year.
"Egypt is close to fulfilling its potential in the UK market," believes the company's Ahmed Elaguizy. "All of our vineyards are relatively young and a lot of new varieties have been introduced in the past few years."
Improvements in sea-freight technology and transit times, coupled with advances in modified atmosphere packaging, have benefited a number of countries, including Egypt.
Given the country's year-round climate, a number of Egyptian vegetable producers are hoping to ship larger volumes to the UK in the future. However, although El Aguizy acknowledges the quality of produce shipped has been of a very high standard, last season's vegetable deal was a little slow. "Less volumes were shipped due to the decrease in the customers demands," says Elaguizy.
In line with its long-term growth plan, El Aguizy has recently renovated, as well as increased, the capacity of its packing and cooling facilities. The firm has also diversified into the processed food sector and is currently building a state of the art IQF facility. When completed, this facility will have the capacity to handle two tonnes of frozen fruits or vegetables an hour.
"We believe the future of Egyptian exports to the UK is in prepared foods and high value products," says Elaguizy.
When it comes to Egyptian fresh produce, peaches may not be the first crop that springs to mind but Belco believes significant opportunities lie in exports.
The firm exports the varieties Florida Prince and Desert Red in early May. "When Chile finishes supplying the UK with peaches, Europe has none," El-Beltagy says. "Thus exporting at that time fulfills a gap that UK consumers need. If you work with good varieties and early varieties, your opportunity for exporting peaches to the UK is there. It's the same opportunity that the Egyptian market found 10 years ago with table grapes."
The 2005 season was a trial year for Belco and the firm is hoping to shift 700t to the UK this season. "We have found the demand to be more than we expected," El-Beltagy says.
Belco has enjoyed an impressive innings over the past 12 months. The firm has increased its land by 600 acres, covered an additional 120a of table grapes, increased its mangetout and salad onion exports and has added two new pre-coolers and another cold-store at its packhouse.
The company is also conducting trials on a number of green bean varieties and is looking at producing and exporting iceberg lettuce and melons.
Belco has further invested in machinery from the Netherlands to boost its productivity and accuracy for peaches and peppers.
Meanwhile, citrus represents another important line and production has increased rapidly over the last decade. In a normal year, Egypt exports around 20-25 per cent of its citrus crop, and oranges account for the vast bulk of shipments.
Bobby Welch, citrus manager for Richard Hochfeld, believes that Egyptian Navels are putting in a strong performance.
"Sales have been very satisfactory this season and Navels have been well received," he says. "There were some very minor issues towards the end of the season but it's an inherently good product."
Welch notes that the good eating quality of Navel means that it is moving up the scale. "Egyptian producers are doing some very interesting things and oranges are one to watch for the future."
Strawberries represents another crop that is making waves. Redeva, the breeding arm of Redbridge, claims to be one of the pioneers in Egyptian strawberries and is confident that a lot more can still be achieved.
"We're pleased to be in such a strong growth category," says Ian Waller, sales director for Redbridge Worldfresh. "We handle a number of berry varieties and we'll be naming and releasing more out of Egypt later this year."
According to Waller, the varieties Tamar and Susana have revolutionised winter berry business. "Consumers are getting a taste of winter sunshine and we had a lot of repeat purchases during the 2005/06 season," he says.
"Susana has been very popular and we've been pleased with its performance. We're also excited about the other varieties that will follow it."
Observers note that interest in berries is at a high and the search for the perfect berry is never-ending. However, they agree that a commercially viable strawberry needs to be one that can be grown successfully and also one consumers will buy time and time again.
Redbridge increased export volumes substantially to the UK market last season and is looking to make further gains.
Waller says: "We got a lot of volume into the market very early and there was full availability over Christmas, which hasn't happened for a few years. The weather turned cooler in January but our fruit was arriving as demand was peaking.
"The Winter Berry Association, led by Sputnik, did a very good job of raising the profile of berries. There was lots of consumer interest generated by excellent PR and the product is fulfilling consumer expectations."
Egyptian berries are generally available in the market until late February - early March, although towards the end of the season, competition from Morocco and Spain intensifies.
According to Waller, Egypt has made a huge amount of headway in the berry category. While production was fairly slow to increase initially, winter varieties are benefiting growers.
However, logistics could be one factor that tempers growth. Airfreighting inevitably drives up costs but other issues are at stake. "Services have to keep pace with demand," Waller warns.
Other early-year crops include potatoes and first shipments normally land in early January. Small volumes trickled into the UK in early April, with marketers acknowledging the end of the 2006 season was in sight.
"It's been a good season and I predict that exports will end on around 20,000t," says Dr Ihab Tadros, chairman of Egyptian Potato Consortium (EPC). "Quality has been consistently good throughout the season and prices have been stable, with no dips."
Dr Tadros believes that so long as Egypt acts responsibly and doesn't swamp the UK with excess volumes, producers and exporters are rewarded.
"Egyptian exports to the UK have been established around the 20,000-23,000t mark for the last few years," he explains. "When volumes stay at this level, everyone gets a good season."
The bulk of potatoes sent to the UK are the Nicola variety, but EPC notes that there are opportunities for other varieties. "We have been marketing Charlotte and Maris Peer and are happy with the results achieved this season," Dr Tadros says.
SEKEM ENJOYS FAIRTRADE SUCCESS
Egypt is not known for its Fairtrade operations but the Sekem group claims to be the first supplier of Fairtrade-certified vegetables worldwide.
The UK accounts for 30 per cent of exports and green beans, peppers, and potatoes, as well as oranges and grapes represent the most popular products, according to Sekem's Tobias Bandel.
"We have to meet one of the world's highest product quality and safety standards when supplying UK supermarkets and these tough product specifications and competition from other countries is challenging," he notes.
However, Bandel adds that challenges are also opportunities and the company is more than able to meet these requirements.
Sekem has worked closely with the Fairtrade Foundation and Organic Farm Foods (OFF) to open new marketing channels. "Together with OFF and our other European trade partners, we have been active in developing new agricultural standards and packing practices suitable for organics," says Bandel.
Marketing strategies are also being developed to promote organics in various markets.
EL MONA BANKS ON QUALITY
El Mona Company produces and exports a range of fresh produce and the Cairo-based firm supplies supermarkets, wholesalers and importers. "One of our aims is to ensure top quality fruits and vegetables," says Mona Bishara, general manager. "We use only the most suitable packaging materials to protect fresh produce for a longer shelf-life and we do our best to ensure our products to always be of the highest standard."
Table grapes are one of El Mona's key lines and the company harvests fruit in both the north and south of Egypt. Production of seedless grapes begins in mid-May and runs until the end of July. "We have two major varieties, Flame Seedless and Superior Seedless," says Bishara. "Brix levels start at 14 and we pre-pack in 500g punnets as well as poly bags."
The company also handles pomegranate, Galia melon and watermelon, fresh white and purple garlic, spring onions, chillies and sweet potatoes.
"It is important to comply with quality health and safety requirements so we depend on good agriculture practices; selection of seeds, soil treatment, good irrigation systems and proper fertiliser," says Bishara.