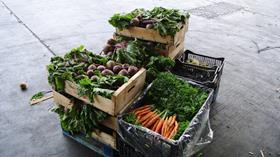 The European Commission has suspended the emergency measures for fruit and vegetable producers banned by Russia amid fears of fraudulent claims.
The scheme was announced on August 18 to help avert a crisis in the European fresh food market following Russian measures banning imports of certain EU agricultural products. Already the amount of claims have hit the cap of €125m.
The Commission states there has been "a disproportionate surge in claims – for example where the figures submitted for some products are several times higher than the total EU average annual exports to Russia."
It is now in the process of arranging a more targeted scheme, which will take into account the recent experience of dealing with producers.
European Commissioner Dacian Cioloş stated: 'The European Commission remains committed to support those producers who have suddenly lost an important market because of the Russian measures. I intend to present a new scheme in the coming days which is more targeted and efficient and which will continue on from this scheme.'
The emergency market measures, €82 million of which was allocated for apples and pears, were designed to fund withdrawals of product, to be sent for free distribution or destruction, in order to prevent market disruption.
Adrian Barlow, chief executive of English Apples and Pears, had already voiced concerns over the way the scheme had been drafted, claiming it was 'flawed' due to the lack of restrictions on claims.
"Our main fear is that this suspension will lead to market disruption, not for apples but for pears," he said.
"We know that a lot of the European production of apples produces fruit too large for the UK market. However, there are at least 100,000 tonnes of Belgium pears that are looking for alternative markets and that is where we see potential disruption."
But Barlow added that supermarket retailers had assured him that they would continue to push British product rather than take advantage of the offer of discounted European imports.
An EU official said that the figures so far submitted were provisional, and Member States now have six weeks to verify that these are genuinely eligible claims, and will only then confirm the final figures. It is thought that in the case of Poland, the figure will be far lower than the amount submitted.