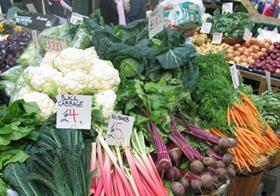 UK fruit and vegetable consumption could decline by as much as 11 per cent if no trade agreement is reached with the EU following Brexit, a new study has claimed.
The report, put together by researchers at the University of Warwick, took estimates from a panel of experts who predicted the effects of Brexit on the price of different foodstuffs, and combined them mathematically to give an overall picture. The study has been published in the journal BMJ Open.
The report, which notes that the prices of fruit and vegetables are particularly vulnerable to the vagaries of production and supply, predicted a downturn in fruit and veg intake of between 2.5 and 11.4 per cent depending on the Brexit trade agreement. That's based on an assumption that the cost of production and imports will rise if Britain fails to secure a favourable trading relationship with the EU, which is a vital partner in fresh produce supply.
There would be a knock-on effect on health under those scenarios, with greater processed food consumption leading to an increase in diet-sensitive chronic diseases in the longer term such as hypertension, hyperlipidaemia and diabetes, as well as higher cardiovascular disease mortality.
This would particularly affect lower earners, with nutrient-dense foods such as fruit and vegetables often more expensive and less available in lower-income neighbourhoods when compared with processed food.
Overall, a hard Brexit could result in a family of four seeing their food costs increase by as much as £50.98 per week, the researchers found. The most minimally disruptive deal – that which is similar to what Britain had under its EU membership – would still likely cost a family of four an additional £5.80 a week, though that could also be as high as £18.17.
Tea, coffee and cocoa are expected to be least affected by Brexit, with meat, dairy and jams the categories most impacted.
Lead investigator Dr Martine Barons, from the Department of Statistics at the University of Warwick, explained: "We conducted the research using estimates from ten specialists with expertise in food procurement, retail, agriculture, economics, statistics and household food security. We then combined in proportions used to calculate Consumer Price Index food basket costs. The median food price change for Brexit with a Deal is expected to be increased by six per cent, and with No-deal it is expected to increase 22 per cent.
"Food security in the UK is a topical issue. According to the Trussell Trust over the last five years food bank use increased 73 per cent, and this could increase for families who are unable to absorb these increased costs. There could also be reductions in diet quality leading to long-term health problems.'