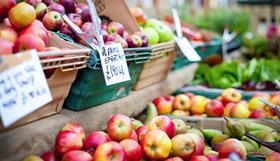 As more and more consumers shift their focus towards shopping 'local', farmers' markets across the UK are calling on the public to visit them for a sustainable and safe retail experience.
Recent research from Mintel shows that 25 per cent of UK adults are shopping more from local businesses as 'community' becomes more important to consumers.
With the government's own guidance highlighting the importance of ventilation in preventing the spread of Covid-19, farmers' markets provide an ideal place away from crowded supermarkets to pick up plentiful fresh food, according to farm retail and market organisations.
Jenny Rose, manager of the Farm Retail Association said: "Access to local, fresh healthy food in the open air is such a positive resource for consumers as the battle against Covid-19 continues.
"Farmers markets are at the heart of local communities, and in many cases play a huge role in the economy of their local areas, bringing people to the high street.
"With Brexit having a temporary impact on certain food chains into the UK, access to British food has never been more important."
Joe Harrison, CEO of the National Market Traders Federation, said: "I am sure that the Prime Minister will see it only right and fitting that markets, particularly those that operate outdoors, are able to stay open and offer a safe option to the shopping public.
"We were pleased that the PM and his Government correctly saw it fit to make outdoor markets the first form of retail to open safely following the first lockdown last summer. As an industry, markets have done an incredible job in keeping the public safe."