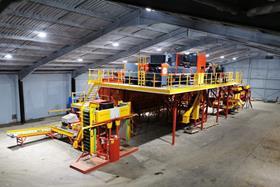 A Perthshire farming business that supplies table and seed potatoes to the UK, Europe, North Africa and Middle East has secured £1 million in support from HSBC UK to upgrade its operations.
Muthill-based FIMM Potatoes is using the facility to purchase a best-in-class optical potato grader. The huge multi-level, fully automatic 50x30m potato sorter includes innovative technology and intelligent controls to help increase throughput by up to 100 per cent.
The new equipment will also relieve FIMM's 10-strong team from much repetitive manual labour, according to the company, allowing them to focus on additional duties and developing technical skills to help the business.
Mike McDiarmid, director at FIMM Potatoes, said:"We have a young and talented management team in Mitch Hayfield and James McDiarmid who are driving the business,continually looking at ways to improve efficiency on the farm. It is an important time for the sector and the new optical grader will modernise our equipment and help to safeguard the business.
"HSBC UK has a strong understanding of the agriculture landscape and they were very supportive of our short and long-term plans for growth and seeing the benefits our proposed developments will make to the business."
John Robertson, agriculture director for East of Scotland at HSBC UK, added: "FIMM demonstrated a clear strategy for improving and growing its operations. We were delighted to help with the purchase of the new grader which will have a hugely positive impact on the business and its customers."
The finance was allocated from HSBC UK's new £14 billion national SME Fund, which aims to actively support UK businesses realise their ambitions for growth and navigate Brexit.