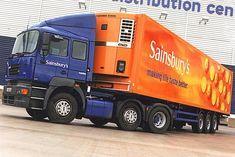 Sainsbury's has announced its first ever loss of £39 million (pre-tax and post exceptionals) for the six months to October 9, despite total sales rising by 3.5 per cent to £8.35 billion.
For the first six months of trading this year, the supermarket group reported a profit of £323m.
But since then chief executive Justin King said exceptional write-offs, due to the company failing to stock its shelves properly because of faulty distribution systems and reorganisation, had cost £400m. "We are now beginning the implementation of the plans arising from the business review to rebuild a sustainable sales-led recovery," he said. "We are clear on the actions we need to take to make Sainsbury's great again."
One of the supermarket's depots has been reopened to improve product availability and deliveries, and new products are being introduced to the ranges.
Profits for the second half of its financial year were not expected to differ from the first six months, with full-year profit estimates at £260m. Despite underlying sales falling, management forecast sales to grow over the next three years.
Chairman Philip Hampton said he believed the retailer had the building blocks in place to achieve a turnaround. He said: "We have embarked on sales-led recovery which will enable Sainsbury's to deliver long-term sustainable performance and profit."
Changes planned for the retailer include a £400m spend on product quality, more emphasis on fresh food and own label products in the Taste the Difference and Be Good to Yourself ranges, simplified store layouts and the recruitment of 3,000 staff.
Despite the recent profit warnings, Sainsbury's share price has risen based on market speculation of a takeover bid by former Asda boss Allan Leighton.