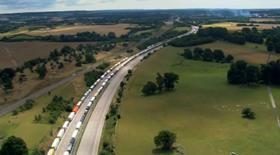 Former Sainsbury's chief executive Justin King has predicted there will be significant gaps on supermarket shelves within a week of a no-deal Brexit.
The ex-supermarket boss, who also used to be director of food at Marks and Spencer, said the border at Dover is unlikely to operate smoothly enough to prevent major disruption if Britain crashes out of Europe without a deal.
'The government's expectation is that something like 50 per cent of lorries will not pass smoothly through the border,' he said on BBC's Newsnight.
'Supermarkets will do whatever they can to cope with the disruption,' he added. 'But let's be clear: there's about 10 days of [fresh] food in the UK in total.Obviously a lot more than that in packaged goods and in frozen, but a very small number of days in fresh food.
'The kind of disruption that the government is talking about today will lead to gaps on the shelves within a week in the UK. Significant gaps. Because something between 30 and 40 per cent of our produce at that time of the year is coming from the European Union, predominantly Spain."
Panic buying is likely to increase as shortages take hold, King warned, but he rejected any suggestion that he'd stockpile himself, describing it as "a terrible thing to do".
King added that he hopes the government listens to a request from the Food and Drink Federation to waive competition law which currently prevents supermarkets from coordinating due to concerns over price-fixing.
In the longer term, the former Sainsbury's man expressed confidence that the food and drinks industry will innovate to cope with these challenges but in the more immediate future he said the government's no-deal preparations fail to address the real problem. "You can't 'cope' if the product isn't in the UK,' he said.