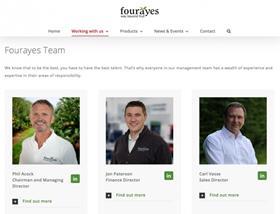 Fourayes has launched a new website which it describes as a "huge celebration of British fruit".
The UK's largest fruit processor, which also calls itself the world's only "Fruitician", said it had radically simplified its website to help people find what they want more easily.
Fourayes managing director and vice-chairman of British Apples & Pears Phil Acock said the website aims to make visitors' "mouths water".
"We are a progressive business that continuously invests in being the best we can be for our customers," Acock said.
"Our website is often the first view people have of us, so we wanted to make sure it is a true reflection of who we are. Our new website is fresh, exciting, filled with helpful information and easy to deal with – just like us!"