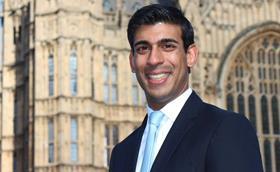 The Fresh Produce Consortium has called on local authorities to play their part in helping the wholesale trade to recover from the Covid crisis.
Following the Chancellor's Budget announcement, FPC chief executive Nigel Jenney welcomed the extension of measures such as the Job Retention Scheme, grants for high street businesses and restart grants. 'It's good to see the Chancellor recognises that there is a long way to go for many businesses to start to recover from the pandemic,' he said.
However, he added that wholesalers that supply into the hospitality and foodservice sectors will still be reliant on their local authority to dispense available funds to those businesses which it deems need support. 'This could become a lottery for some businesses rather than a sure-safe means of protecting businesses from going over the cliff edge in the coming weeks,' he added.
'Without guaranteed financial support some wholesale fresh produce, flower and plant businesses won't be there to supply their customers when they want to restock and re-open,' Jenney continued. 'We ask all local authorities to be mindful of the wholesale and foodservice fresh produce businesses which supply their restaurants, pubs, hotels, hospitals and schools.
'We also encourage market landlords to support their tenants proactively by influencing their local authorities to prioritise the sector and provide the necessary support consistently."
Investment-led recovery
NFU president Minette Batters said that in the long-term, farm businesses can play a key role in the investment-led recovery that the Chancellor set out. "Farm businesses, and their diversified enterprises, will welcome the Chancellor's decision to extend the reduced rate of VAT for retail, hospitality and leisure, extend business rates relief, offer further grants for the self-employed, introduce a new recovery loan scheme and make restart grants available for tourism and hospitality businesses,' she said. 'These are all measures that will support rural businesses to recover from the impact of Covid-19.
"The announcement of the UK Infrastructure Bank to finance green investment could be a crucial tool in stimulating investment and driving green economic growth,' she continued. 'The launch of the Levelling Up Fund could also be positive for rural areas in narrowing the growing divide between rural and urban. We look forward to receiving more detail on how this may work in practice.
"However, we are disappointed that the 'super-deduction' on machinery investment is only applicable to limited companies and not available to all businesses, especially when significant investment in new farm technology is required.'
'Right balance'
Food & Drink Federation chief executive Ian Wright offered his backing to the Budget, saying that it stuck the right balance between supporting recovery and acknowledging the difficult choices that have to be made to restore the country's finances. 'Food and drink businesses supplying the hospitality and foodservice sectors will welcome the extension of the furlough scheme,' he added. 'However, we have concerns that support tapers too soon and should be kept under review.
"As the UK's largest manufacturing sector, we welcome the news that the Bank of England and the Chancellor are doubling incentive payments for businesses hiring apprenticeships. However, increased flexibility of the apprenticeship levy would enable the system to work for the wider food and drink supply chain, particularly SMEs, and must be considered in relation to any new incentives.
"The Chancellor rightly expressed his firm intention not to increase the cost of living and has recognised the importance of encouraging investment as the key driver of recovery. He should therefore review proposed regulatory changes that will increase food prices."
Sainsbury's to forgo business rates relief
Elsewhere in Budget news, Sainsbury's welcomed Rishi Sunak's announcement that all retail, hospitality and leisure businesses in England would be given a business rates holiday until the end of June and that smaller businesses would benefit from a reduction for the remainder of the year.
However the retailer said that as the majority of its stores will remain open this year, it will once again forgo business rates relief on all Sainsbury's stores this year, as well as on all standalone Argos stores.
It added: 'We look forward to broader conversation and consultation with government on over-arching business rates reform and a review of business taxation in the round. We believe fundamentally that business rates are an outdated and unfair burden on retailers with physical stores and need to be permanently reduced.'