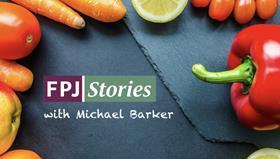 FPJ Stories is the talkshow series in which contributing editor Michael Barker chats in depth to leading industry figures about their life, career, inspirations and hobbies.
Inspired by the hugely popular Life Stories segment at FPJ Live, this video and podcast series gives unique access into the lives of some of the most charismatic and fascinating figures working in the fresh produce industry today.
In Episode Four, Michael talks to Dan Parker, chief executive of Veg Power, about the extraordinary success of the campaign, how it hopes to move to the next level, and Parker's own unusual journey from junk food marketer to passionate advocate of healthy eating.
Watch the interview below, or listen to the podcast via this link.