NIAB's Tree Fruit Day takes place online on 21 February
A free technical webinar is offering the latest research and advice for UK and overseas tree fruit growers and farmers, scientists and the trade.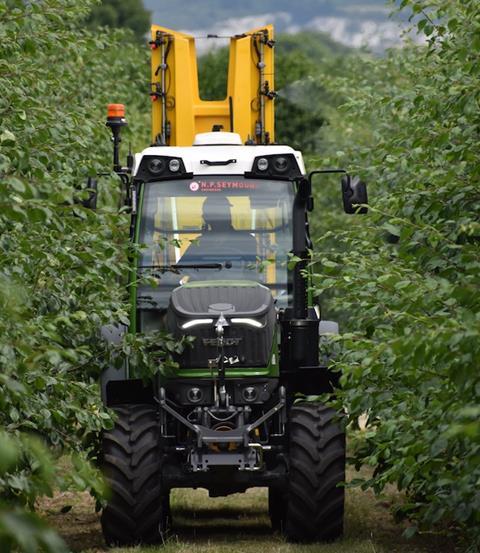 Run by crop research organisation NIAB, the Tree Fruit Day event is taking place online on 21 February from 11am to 4.20pm.
The full-day event opens with Dr Charles Whitfield, based at NIAB in East Malling, Kent, discussing the development of a precision dosing orchard sprayer and fluorometer technology to assess spray application.
Richard Colgan, from the University of Greenwich, will cover his research detecting and predicting internal browning in apple, while Mark Else will update delegates on NIAB's Plum Demonstration Centre. Robert Saville follows with how Growing Kent & Medway is supporting sustainable innovation in horticulture.
Three afternoon sessions offer new findings on pest and pathogen ecology, led by NIAB in collaboration with universities and industry. This includes canker and replant research in apple, and bacterial canker in cherry, followed by pest research on forest bug, apple sawfly and brown marmorated stink bug.
The event will also highlight work by PhD students on pear sucker, the impact of wildflowers on pest control and solitary ground-nesting bees in apple orchards. The final session provides an update on the development of new management techniques for spotted wing drosophila in plum and cherry trees.
NIAB knowledge exchange manager Scott Raffle said: "With the winding down of AHDB horticultural activities last year, NIAB has welcomed the opportunity to ensure this annual industry event remains on the calendar. Presenting it on a virtual platform has proven popular over the past few years, with a larger audience drawn from across the UK and abroad.
"I encourage everyone with an interest in tree fruit production to attend, to keep abreast of some really exciting new findings in a range of research and demonstration projects being managed by NIAB at East Malling and elsewhere."
To register or find out more, visit the NIAB event hub.