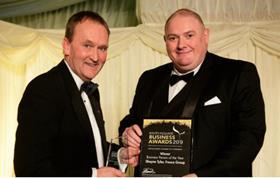 Fresca's compliance director Shayne Tyler has been named Business Person of the Year at theSouth Holland Business Awards for his tireless work in tackling the issue of modern slavery.
The panel of judges in Lincolnshire recognised the difference Tyler has made, not only to Fresca businesses and people, but also to the wider fresh produce community.
He is a regular speaker at events related to the issue of modern slavery, sharing knowledge and best practice with representatives from government, the police, local authorities and other fresh produce businesses.
"Well-known and well-liked, Shayne is a passionate advocate for good practice in the supply chain," said a spokesperson for Fresca. "Fresca Group is proud to be leading in this area, and our grateful thanks and many congratulations must go to him on this achievement."
The awards ceremony, which took place in Spalding on 14 November, was organised by the Lincolnshire Chamber of Commerce and the South Holland District Council, which is the local authority for two Fresca businesses, Manor Fresh and DGM Growers.
Tyler beat off competition from other finalists: Nick Hay, CEO of Fowler Welch, and Neal Collishaw, operations director of Worldwide Fruit.