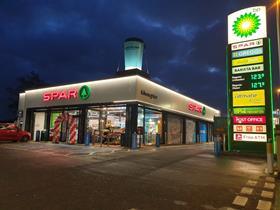 Fresh food has helped boost sales at convenience group Spar UK.
The group reported like-for-like Christmas retail sales up 2.6 per cent in the four weeks to 29 December, driven particularly by sales of fresh food and improved availability. Sales rose by 7 per cent on a like-for-like basis in the four weeks to 29 December.
Managing director Louise Hoste said: "Our performance over the festive period shows that we are responding well to shopper demands, with excellent marketing initiatives, and communication of the role our stores play in local communities. This has driven sales and the results prove that convenience is still key for shoppers at Christmas.
"We are delighted to see this good performance continuing into January and by having stores at the heart of the community, our independent retailers are providing customers with a high-quality individual service.
"Supporting our independent retailers are our five wholesalers who have made huge investments into supplying quality fresh and chilled foods – and this investment is paying off," Hoste added.
"As we start 2020, our focus is on converting those Christmas emergency shoppers into more loyal everyday shoppers, while at the same time developing our store formats ensuring we provide the most convenient and best proposition in the UK."