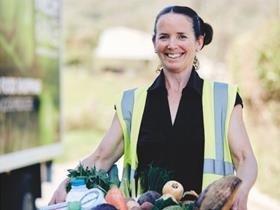 An online grocer backed by Chris Packham that sources directly from British farmers has expanded to offer a UK-wide delivery service.
Expanding from its western England origins, fresh-range founder Rich Osborn says it will offer its services across 16 regions in the UK.
The grocer sources from producers taking measures to successfully address climate change, restore biodiversity and protect endangered native species such as bees, butterflies, birds and hedgehogs.
Rich Osborn, founder of fresh-range, said:"fresh-range is on a mission to deliver fresher food sourced with care from suppliers with the highest welfare and environmental standards.
"We are offering a new way for people to engage with British farmers and source food and drink directly via short and transparent supply chains.
"The company has experienced greater than 50 per cent growth year-on-year for the last three years, but until now the service has only been available in the west of England. Now we have ambitious plans to offer the same infrastructure across 16 regions, so that customers can trust that their money is supporting sustainable producers who are tackling the climate and ecological crisis."
Fresh produce grower Andy Jeffery, of Farrington's Farm, said: "We take a sustainable, organic approach to horticulture at Farrington's Farm. So, it's great for us to have a partner like fresh-range who wholeheartedly believe in our ethos and provide a market for our produce beyond our own farm gate. We harvest in the early hours of the morning, fresh-range collect and dispatch for delivery to customers just hours later."
Fresh-range has also committed to reducing food waste and greenhouse gas emissions in supply chains and uses sustainable compostable and recyclable packaging to reduce plastic waste.
By sourcing directly from producers and immediately delivering to the customer, fresh-range says it eliminates the need for retail infrastructure which allows them to reduce customer prices and pay farmers fairly.
Jane Spindler, customer of fresh-range, commented:"I've been a regular and very satisfied customer of resh-range for nearly 3 years. It's great to be able to buy such a selection of good, interesting and very fresh produce and to be confident that the local farmers who supply it use sustainable farming methods and keep high standards of animal welfare."