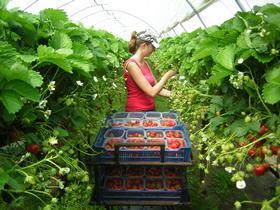 Online job searches for fruit picking were more than twice as frequent as NHS volunteer job searches during lockdown, with a whopping 843 per cent increase since the start of the lockdown period.
New data revealed by recruitment company Debut Careers, reveals the success of UK horticulture industry's efforts in highlighting serious labour shortages arising from coronavirus travel restrictions.
Searches for "fruit picking jobs" rocketed 843 per cent between March 23rd and May 15th this year, as millions of Brits have either lost jobs or were placed on furlough due to the nationwide lockdown imposed by Boris Johnson.
Trailing far behind fruit picking job searches were "NHS Volunteer Jobs" with a 355 per cent search increase, and "Online Tutoring Jobs" at 67 per cent.
Delivery work has also seen a large uptake in recruitment since the start of the pandemic, with Tesco delivery job searches increasing by 128 per cent and Asda delivery jobs searches up 117 per cent.
According to Debut, general searches for 'farm jobs' have also risen by 21 per cent too.
With over 90 per cent of seasonal agricultural workers emigrating from Eastern Europe each year to pick British crops, travel restrictions have brought British production to the brink of an unprecedented crisis.
Yet job sites launched by industry and government have managed to recruit enough workers from home and abroad to keep operational roles filled for now, although fears remain as Britain's peak soft fruit season approaches.
All search increases were calculated usingGoogle Trendsdata, which normalise search interest on a scale of 0-100, with 100 representing the peak searches over a period and the other figures relative to this.
Debut took an average for the search interest scores since lockdown (March 23rd to May 15th) and an average for the same period pre-lockdown (January 29th to March 22nd), before calculating the percentage increase.