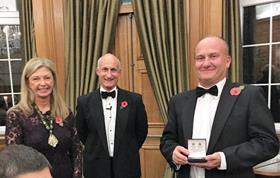 The Worshipful Company of Fruiterers has announced the winners of two awards for outstanding achievement.
The Fruiterers' Management Award, which is handed to an individual who has demonstrated progressive and innovative management skills in the UK fruit industry, was presented to Robert England by Master Cheryl Roux at the Master & Wardens Dinner on 6 November.
As the owner of a small farm in East Anglia, England's recent achievements include being honoured as Tesco's Small Grower of the Year.
England became a manager for the Peake family business, Boxford Farms, in Suffolk, growing top and soft fruit. In recognition of his success, he was promoted to farms director and helped the business to the 2015 Grower of the Year award.
At Boxford Farms, England worked closely with the owners, transforming the farm business and adopting novel and progressive techniques for both tree fruit and soft fruit production.
Meanwhile the Fruiterers' Under-30 Award was presented to Ryan Williams. The award is given to someone under 30 who is working for a UK employer, developing a career in the fresh produce industry and making a significant contribution to the sector.
After completing a work experience season where he tested apples for maturity with Nigel Jenner of Normal Collett, Williams studied commercial horticulture at Hadlow College. On completion of the course, he was offered a full-time job with Avalon, whose predecessor Normal Collett had sponsored his studies.
By the age of 22, Williams completed his BASIS qualification and now advises on crop protection, maturity testing and store monitoring for a number of farms.
Within the Avalon group, Williams is responsible for trials on pear sucker control, biocontrol of codling moth and evaluation of new varieties of apple and pear.