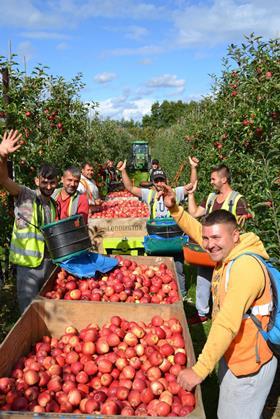 The UK government has confirmed that furloughed workers will be able to seek alternative employment on the country's farms if their contract allows.
The Country Land and Business Association has predicted a shortfall of up to 80,000 casual and seasonal employees for the fruit and vegetable picking season without urgent action.
To date, some 26,000 people have responded to the call for a new 'land army' of UK-based workers to fill the labour shortage.
The news that staff placed on furlough - whereby their salaries continue to be paid despite there temporarilybeing no work for them to do - can look to fill farm vacancies, could offer a further boost to the fruit and vegetable sector as it enters the crucial spring and summer harvest period.
CLA president Mark Bridgeman said: "Thousands of people are coming forward to help farmers feed the nation. This is wonderful news and shows a tremendous 'can do' attitude at these difficult times. Make no mistake, we still need many more to do the same.
"Up until this week, there was a lack of clarity around the rules concerning furloughed workers – specifically whether they can take up a temporary job while still under an employment contract.
"To their credit, the UK government has listened to industry warnings and has now made it clear that if you are furloughed, you should be able to undertake seasonal paid employment to supplement your income.For this to work, it is vital that employers take heed and release their furloughed staff from any contractual obligations limiting their ability to seek alternative work."