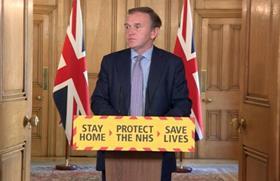 Defra secretary George Eustice said the government will be encouraging "millions" of furloughed Brits to help harvest crops this summer.
Big concerns remain about a potentially large labour shortfall during the peak months of British fruit and vegetable production, as travel restrictions and coronavirus measures prevent much of the predominantly EU-origin horticultural workforce arriving to the UK.
Taking the lectern at the government's daily coronavirus update on Sunday, Eustice spoke of success in stabilising supply chain disruption, and said the government was "identifying an approach" in getting furloughed workers to help harvest British produce.
"We're also acutely aware that we're about to start the British season in fresh produce, in soft fruit and salads. We estimate that probably only about a third of the migrant labour that come to the UK is here and was here before lockdown,' Eustice said.
"We are working with industry to identify an approach that will encourage millions of furloughed workers in some cases to consider taking a second job to help get the harvest in in June.
"It's not an issue at the moment since the harvest has barely begun but we do anticipate that there will be a need to help recruit staff for those sectors in the month of June."
Eustice spoke of positive trends in stabilising the food supply chain, which has seen empty shelves in the supermarkets in recent weeks, across food and other goods.
"We've been monitoring the food supply chain quite carefully and to date there isn't any serious disruption to international trade flowsm,' Eustice said.
"We're also seeing retail sales having had that episode of panic buying several weeks ago return to normal levels now, in some cases slightly below normal levels.
"It is the case that the social distancing measures in supermarkets put in place means there are times when they are not able to restock shelves as freely as they would ordinarily.
"That is not a problem of food supply, simply the fact that social distancing sometimes makes it harder for them to get the goods on their shelves.
"Generally we've seen a dramatic improvement from the problems we saw three or four weeks ago. The international food supply chain continues to work well although there are isolated cases of trade being disrupted part some goods incoming from India. Most of our trade from our near neighbours in Europe continues to flow as normal."