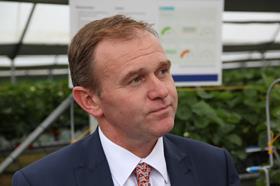 George Eustice has been appointed as Defra secretary of state following Theresa Villiers sacking earlier today.
Eustice takes up the role having worked as Minister of State for Agriculture since 2015 and was one of the key architects of the current Agriculture Bill, now passing through parliament.
In 2019 he resigned as minister following Theresa May's decision to allow a vote to delay Brexit and extend Article 50. He was reappointed as farming minister following Boris Johnson becoming Prime Minister.
Following his appointment, the NFU tweeted: "Congratulations to the new Secretary of State for Defra George Eustice MP. We look forward to continuing to work with you to support British farmers and their businesses, achieve net zero by 2040 and produce healthy, safe and affordable food."
Having grown up in Cornwall and studied horticulture at Writtle College, George Eustice brings plenty of experience in rural and agricultural issues. The MP for Camborne and Redruth even ran a strawberry growing business on his family farm.
His predecessor Theresa Villiers survived just six months as Defra secretary of state.
Following her departure, Villiers said she was "sad to no longer be part of the team", which came as part of Boris Johnson's cabinet reshuffle. Other high-profile departures included Sajid Javid as Chancellor, Andrea Leadsom, Esther McVey and Attorney General Geoffrey Cox.
Villiers had already made her mark on Defra by re-introducing the Agriculture Bill and the Environment Bill in January, with the former described by NFU president Minette Batters as "one of the most significant pieces of legislation for farmers in England for over 70 years".
Villiers wrote on Facebook: "What the Prime Minister giveth, the Prime Minister taketh away: just over six months ago, I was delighted to be invited by the Prime Minister to return to government after three years on the backbenches. This morning he told me that I need to make way for someone new.
"I am deeply grateful for having been given the opportunity to serve twice at the highest level of government, first as Northern Ireland Secretary and then as Secretary of State for the Environment, Food and Rural Affairs. I tackled both roles with passion, commitment and huge amounts of hard work".