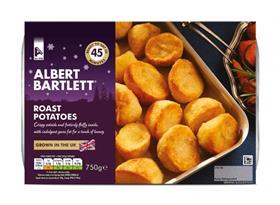 Albert Bartlett has launched a new chilled potato line, Goose Fat Roasts.
The range goes exclusively into Sainsbury's stores from 4 December, in time for the Christmas season, RRP £2.50.
The branded chilled product is a limited addition to the range for Sainsbury and the potatoes will be presented in 750g trays in purple packaging.
The British-grown potatoes have been prepared to roast in 45 minutes with goose fat, with Bartlett describing them as offering 'a deliciously indulgent crispy outside and festively fluffy inside.'