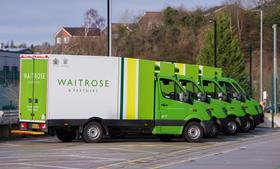 Aldi is extending its trial with Deliveroo into 11 new stores as it expands its home-delivery capabilities.
The extension, which includes five more stores in London and outlets in Greater Manchester and Cambridge for the first time, more than doubles the number of stores currently running the trial partnership.
It means customers living near 20 stores in England will now be able to choose from around 200 essential Aldi groceries online, and have them delivered to their door in as little as 30 minutes.
Richard Thornton, communications director at Aldi UK, said: "Even as many lockdown restrictions are lifted, we're aware that there are still many people who are shielding and would like to shop at Aldi but can't.
"In extending this trial further, we are making it even easier for thousands more people in different parts of the country to get hold of great-quality food at Aldi's unbeatable prices."
Staycations boost home delivery
Meanwhile, Waitrose has reported an increase in the amount of groceries booked online as locked-down Brits order deliveries to their holiday acommodation.
The supermarket said Google searches in the UK for the term 'staycation' are at an all-time high, and up 336 per cent compared to 2019 as Brits look for local holiday destinations this summer. Customer orders on Waitrose.com for deliveries to vacation spots including Truro and Weston-Super-Mare are proving particularly popular as customer demand reaches an unprecedented peak.
Waitrose has added 35 per cent more driver hours to its fleet of delivery vans to cope with demand in 2020, and last week Waitrose.com saw its biggest-ever week of online orders - 163,000, which is an increase of 185 per cent compared to the start of the year. The figure means Waitrose has increased capacity by 100,000 weekly orders online compared to before Covid-19.
Dominic Jones, eCommerce operations manager at Waitrose, said: 'As lockdown eases, people are getting organised and looking forward to a much-needed break. Ordering a food shop to arrive on the first day of your holiday is one of the many perks of online shopping and we are working to maximum capacity for our online deliveries to help ensure everyone can have delicious food and drink while enjoying a holiday in this country.'