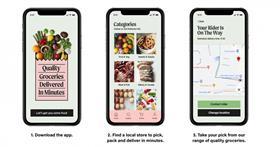 Ultra-fast, on-demand grocery service Weezy, which promises to deliver within 15 minutes of ordering, launched in Bristol this week, its first location outside of London.
Bristol residents will be able to choose from a "wide, but carefully curated range" of around 2,000 products, including locally-sourced fresh fruit and vegetables, after a new 'dark store' fulfilment site was established in the town, the company said.
"Great service starts from within, and every member of our Bristol team is integral to our success," said Kristof Van Beveren, co-founder and CEO of Weezy.
"At Weezy we believe there is a better way to shop, one that allows our customers to stay at home, break free from the shopping list, and receive high-quality produce swiftly and delivered with care. Life is complicated but Weezy isn't – pop the kettle on and we will be there in 15.'
Orders can be placed from 8am and 11pm every day, and are delivered on bicycles or electric mopeds.
From launch until the end of the month, Weezy is offering new customers a 15-minute guarantee on their shopping. If order arrival takes longer than 15 minutes, customers will be given three months of free delivery. The special offer is open to basket sizes of £10 and above, with no limitation on large orders.
Weezy established its first fulfilment centre in London in August, serving customers in Fulham and Chelsea.
It has since expanded, adding three more dark store sites in London, and now in Bristol. The company plans to establish around 40 more around the UK in the first half of this year, it said.
Other ultra-fast grocery delivery companies available in London are expanding beyond the capital. According to The Grocer, Dija announced this week it had acquired Cambridge-based 15-minute drink and snack delivery startup Genie to "support the company's expansion across the UK".