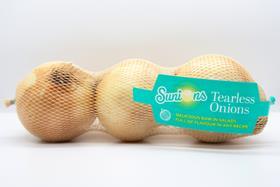 A new branded variety of onion that doesn't reduce cooks to tears has been launched at Waitrose and is up for the Fruit Logistica Innovation Award this year.
Sunions took over 35 years of R&D to develop and are the first tearless and sweet onion variety on the market, according to breeder BASF.
The product, which was developed through natural crossbreeding and not genetic modification, comes from the BASF innovation program and is launching in collaboration with various other partners in the value chain.
BASF provides the seeds, growing recommendations and quality assurance, while Moulton Bulb Co., Waitrose's onion category manager, is the exclusive producer in the UK.
"Many people have tried to understand how to stop crying when cutting onions by freezing the onion, soaking it in water, cutting in a certain way, using a spoon – the list is endless but unfortunately, they still make you cry. All that has now changed thanks to BASF developing Sunions," said Nasir Ahmed, UK consumer and customer manager of BASF's vegetable seeds division.
He described Sunions as "a truly innovative product within a staple and boring onion category" and emphasised the variety's sweetness and flavour, making it suitable for eating raw in a salad as well as cooking.
BASF reported that the variety received strong feedback in consumer tests carried out by Leatherhead Food Research, and Ahmed believes the product has a good chance of winning the Fruit Logistica Innovation Award when the trade show takes place in Berlin in April.
Robert Oldershaw, director of Moulton Bulb Co., added: "We're really excited to be launching Sunions as we think they have a lot of potential. The onion category is not always thought of as being innovative, but Sunions bring something new to the table."
Launched in the US around four years ago, the Sunions brand has been growing and expanding its distribution network ever since.
In 2020 the concept was taken to Spain where it has now attracted 10 retailers for the current growing season, with more to follow.
In the UK, Waitrose is set to begin selling the new variety from 18 January for a limited period. Online and offline marketing will include a feature in the February edition of Waitrose magazine.
"Our goal is to create a significant and sustainable market for tearless onions with the plan to grow the Sunions brand over the next two years, making it accessible to more UK consumers," said Ahmed.
Over three decades in the making
The idea for the variety came about more than 35 years ago, when BASF plant breeder Rick Watson wanted to create a mild, sweet onion that would be marketed during the winter months.
There are two onion seasons in the US, where the variety originated: the winter storage season, when onions are shipped out of storage facilities for nine months of the year, and a three-month window of fresh onions during the summer.
"Within the storage segment, the onions are normally very hot and pungent by their genetic background, their origin," said Jeff Boettge, head of crop marketing and strategy biennials at BASF. "The breeder had an idea [over] 35 years ago to create a variety that would actually be sweet coming out of that storage area."
A tearless, sweet onion had not been developed before and was genetically quite difficult to achieve, according to Boettge.
"We are the first to introduce a storage onion that has the combination of tearlessness and sweet flavour," he said. "This variety that makes up the Sunions brand is really unique in the world of onions – it's a real one of a kind."
The variety was certified tearless through testing by the Sensory Lab of BASF's vegetable seeds business and Ohio State University.