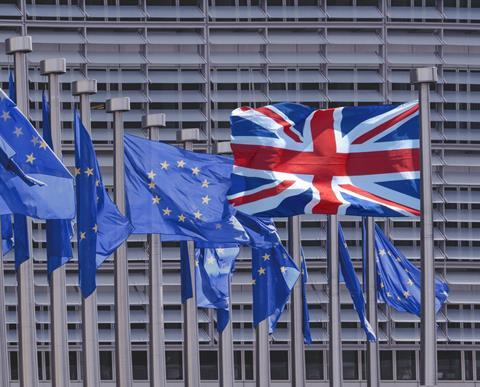 Here's the spoiler: the short answer is no. In terms of the day-to-day operations, Brexit doesn't appear to have caused anywhere near the disruption we were braced for.
The full answer involves border chaos, an HGV driver crisis, seasonal worker shortages, imports and exports plummeting, and a major caveat: it's impossible to truly assess Brexit's effects when completely masked by Covid.
Against a backdrop like that, business as usual is the last thing we expected.
Chaos at the borders
While Britain and the European Union no longer adhere to the same customs rules, most of the inevitable import checks have been pushed back. But full border controls will be in place from the New Year.
This means that from 1 January 2022, all food entering Britain from the EU will be subject to physical inspection at an established Border Control Post (or BCP).
At these designated entry points, plant health officials will perform physical checks on a proportion of the product, to ensure it conforms to safety and security regulations.
Wellpak's European supply base is very well established. Our expert growers' produce will have no issues passing these inspections. But this new hurdle is bound to cause some delays, at least at first.
Right now, trucks are free to continue on with their deliveries from the moment they come off the ferry or train. Having to report to a designated BCP for checks will undoubtedly lead to longer transit times.
Then there's the administration. With every truck having to book at a BCP and present the required paperwork, there's going to be disruption. (As an aside, it is ironic that Brexit was supposed to cut down red tape, when it's only produced more.)
The financial impact will be most significant. We're going to see the cost of bringing goods into the country increase again when inspection fees become due.
So the whole of the food industry is braced for delays, disruption and increased costs.
With fresh produce being the most perishable food product, delays can be particularly damaging. But we're optimistic that there will be procedures for faster port and customs clearance on short life products, along with an increase in the number of BCPs.
Why the optimism? We've seen it iron out before. When the Britain first left the EU many operators were unprepared, and that confusion caused delays.
But now the delays have been factored in, and the paperwork and other administrative burdens have been taken on board. The industry will be quick to settle down, until the next change comes in!
HGV driver crisis
With Brexit-led travel restrictions and tax changes, tens of thousands of HGV drivers from EU member states, who were living and working in the UK, have found it easier to work elsewhere. Add Covid precautions and the UK's facing a severe shortage ofHGV drivers.
Right now, supermarkets are warning customers that some products won't be available, while the haulage industry says that it's struggling to find enough drivers to keep the economy moving. Worse still, it's warning of a full-blown crisis in the supply chain.
These words are particularly alarming for the fresh produce industry, which relies on a tight schedule of deliveries.
Earlier this year there were huge delays in Dover because HGV drivers had to wait for a Covid test to be allowed back into the UK.
During that episode, Wellpak had to divert a few dozen trucks from their original Calais crossing to come to Harwich from the Netherlands. EU drivers didn't want to come to UK to be stuck for days and the team had to scramble to reorganise all these deliveries at literally no notice, and great expense.
But the HGV driver shortage isn't entirely Brexit's fault. It's part of a perfect storm, along with a generation of drivers retiring, Covid, IR35 tax regulations and raging war over wages.
Which begs the question, who's going to pay for the pay rise? I notice major retailers in the UK are now increasing their collection costs to offset the cost, after months of rejecting this rationale from their supplier base.
Imports and exports plummet
The falls in imports and exports between Britain and the EU have led to the lowest levels since records began. This downward trend is only set to continue when full checks are implemented at the UK border in January next year.
So first hand, what has Brexit meant so far for fresh produce imports and exports? For imports it's meant a lot more paperwork and some delays. But the UK is a major destination for EU producers and not a market they can easily replace.
Likewise, it's not easy for the UK to replace the EU's supply with the rest of the world. So we've all had to adapt, not just the UK.
The issues have been not so much EU-generated produce, but produce from the rest of the world that is sent through the EU.
Before Brexit, some of the small volume lines from Morocco – like chillies and sweet bite peppers – were brought in through Spain, before co-loading in a full truck for delivery.
Since Brexit, the same products carry an import tariff, despite being tariff-free when imported direct from Morocco. In most cases, the low volume lines have had to be delisted, as there isn't sufficient volume to justify the cost.
That said, we are seeing fresh produce origins outside of the EU, such as Turkey, that are gaining traction and increasing their business with the UK faster as result of Brexit.
Brexit's actually had much more of an impact on exports. The UK's fresh produce export market isn't huge, and there are equivalent suppliers in the EU for most of the products. It's much cheaper and less complicated to find an EU alternative with no red tape.
To us, the EU and the rest of the world are on an even footing as far as imports are concerned; they represent the same amount of paperwork and cost.
But the EU still has one massive advantage, and that's proximity. It makes for fast and affordable logistics – a prerequisite for fresh produce.
Wellpak has imported from the EU and from the rest of the world since day one. We import a lot of goods from Africa, India, Central and South America. Essentially nothing has changed with these countries for import, and the UK has pretty much replicated the trade agreement we had with these countries to apply to the EU.
Brexit or Covid?
We can't fully understand the impact of Brexit since its economic effects are masked by the coronavirus pandemic. So too are challenges like seasonal worker shortages, the HGV driver crisis, and chaos at the UK's borders.
While you could say these events were a predictable consequence of Brexit, it's now impossible to consider them in isolation, they're so inextricably linked with Covid.
What I can say is this. In terms of the day-to-day operations, Brexit hasn't fundamentally changed anything for Wellpak.
We've had to learn to adapt to a slightly more complex supply chain that takes more paperwork and some extra transit time. Otherwise it's very much business as usual, which is truly remarkable.