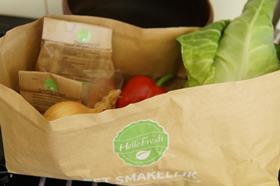 Box delivery firm HelloFresh is to diversify into retail supply for the first time with a new listing at Sainsbury's.
Five HelloFesh Go meal kits will be stocked at over 30 Sainsbury's stores across London, the Evening Standard has reported, before being rolled out across the country.
They will retail for £10 per box with meals designed to be made using only basic kitchen equipment, the paper said, with further recipes to be introduced every six weeks.
HelloFresh founder Patrick Drake said the kits mean shoppers can avoid visiting multiple aisles in supermarkets.