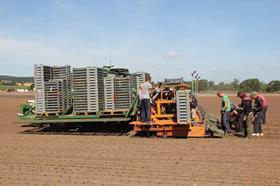 Seasonal labour specialist HOPS Labour Solutions has unveiled a new agri-executive recruitment service to help plug the industry's skill shortage.
With 25 years' experience in the sector, HOPS said it is expanding its recruitment service to help source farm managers, agronomists and sales professionals.
Director John Hardman said: 'Over the last three years we have developed our skilled recruitment brand, appointing tractor drivers, dairy staff and general farm workers, which has led to enquiries from businesses searching for working farm managers, agronomists and sales professionals.'
HOPS is one of the largest seasonal and temporary worker providers, a sector which has become particularly pressured since the Brexit vote.
Hardman added: "All sectors of the industry have desperate skills shortages, particularly dairy, and as an industry we have a perception issue and are not viewed as an attractive career option. We have an ageing workforce without replacements and mechanisation is not the answer.
"HOPS' new executive service means that we can help to attract and appoint skilled workers to the industry. We will be doing all we can to promote the benefits and opportunities available in this exciting industry.'