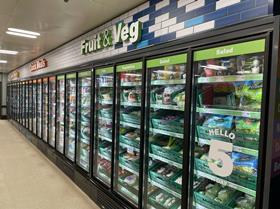 Iceland is trialling a new store format called Swift, making its first foray into the convenience sector.
The trial began on 18 March at the refitted Iceland Four Lane Ends store in Benton, Newcastle upon Tyne, which is adorned with the words fast, fresh, local.
The new convenience format, which is designed to be simple and easy to use, could eventually see Swift become a smaller competitor alongside the likes of Tesco Express, Sainsbury's Local and Aldi Local.
If the trial store proves successful, Iceland MD Richard Walker said there is potential to expand the format within the existing Iceland store estate and beyond. The retailer has stores in almost 1,000 locations across the UK.
Before the pandemic retailers were upping their investment in convenience stores and closing larger outlets. Covid-19 saw a reversal in fortunes for larger supermarkets, with many consumers returning to the weekly shop, however convenience stores have remained popular among people preferring to shop locally in line with lockdown restrictions.
The 1,700 sq ft Swift store boasts innovative design such as the use of vertical refrigeration on every wall to offer double the range of the Iceland store it has replaced.
There are nearly 3,000 lines, spanning the full spectrum of grocery, chilled, fresh, frozen, alcohol, cigarettes, tobacco and food to go.
According to Iceland, the store's layout "breaks down the traditional barriers between frozen and chilled food to provide a complete range of meal solutions, with great lunch and dinner meal deals on offer every day".
Matt Downes, head of space and format development at Iceland, said: "Today's launch is the start of a really exciting concept and we're thrilled to be opening our first site in Newcastle.
"The store is located on a very busy road, next to a major metro hub with free parking outside; it seemed the perfect location for a convenience store trial."
Walker added: "Swift has a focus on being fast, fresh and local. Our last 'one store trial' of a new store format was The Food Warehouse in 2014 and we now have 140 stores."
The Four Lane Ends store is open Monday to Sunday from 7am to 10pm.