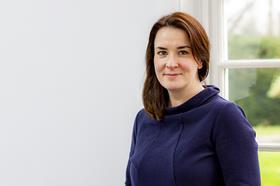 Naomi Kissman has been appointed social impact director at IGD after over two years as the organisation's strategy and corporate affairs director.
In her new role, Naomi will lead the grocery research and training charity's initiatives to unite the food and consumer goods industry as a force for good.
Before joining IGD in October 2019 she worked in a number of positions at Tesco, including senior investor relations manager, over a 10-and-a-half-year period.
Susan Barratt, CEO of IGD, said: "I'm delighted that Naomi is taking the lead across all our social impact projects as we continue to navigate through these extraordinary times.
"Naomi joined IGD inOctober 2019 as our strategy and corporate affairs director and has done an excellent job building our 'Economics from IGD' pillar and deepening relationships with key external stakeholders.
"Now, her focus will turn to delivering positive social impact across all our workstreams and on strengthening our reach across the food and consumer goods industry."
Delivered across four areas – people, health, sustainability and economics – some 4,800 companies engaged with IGD's social impact initiatives in 2021.
This saw 10,000 young people develop their employability skills and 250,000 tonnes of food being saved from waste via the IGD-Wrap Food Waste Reduction Roadmap.
In addition, a new reverse mentoring scheme for industry leadershelped champion inclusion and diversity, and efforts were made to shift consumer behaviour towards healthier and more sustainable diets by working collaboratively to test different strategies.
IGD also developed a new, shared ambition to halve the environmental impact of all packaging systems in the industry by 2030.
Kissman said: "I'm enormously excited to have the opportunity to lead Social Impact at IGD. Having worked in this vital industry for over 15 years, I'm incredibly passionate about its ability to deliver lasting social impact.
"Never has it been more important for us to come together to ensure a thriving industry that delivers better health and environmental outcomes for the benefit of us all. I look forward to continuing to drive initiatives that unite and inspire businesses to make a difference."