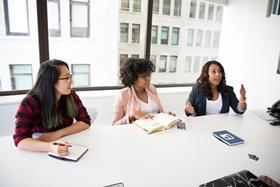 Some 60 per cent of companies in the food and consumer goods industries say a lack of diverse role models in their business is a "significant challenge" when trying to improve inclusion and diversity.
This is according to anew reportby IGD entitled 'Inclusion and Diversity – Benchmark your progress and build your plan'. It buildson a previous report called Diversity in Food and Grocery that IGD conducted in November 2019, in conjunction with The MBS Group and PwC.
At that time, the food and grocery research charity analysed how the industry was performing from a diversity perspective, and this latest investigation examines the current challenges and barriers to progress.
According to IGD, the new report "provides a benchmarking framework and gives practical advice that companies can use to help support the development of an I&D strategy".
It surveyed 30 companies and interviewed senior HR leaders across major retailers, foodservice providers and branded manufacturers.
The key findings of the research were as follows:
- 60 per centof companies said a lack of diverse role modelswithin the company to support the agenda was a significant challenge this year.
- 50 per centof respondents reported thatmaking progress on ethnicity is the most challenging area, largely due to inaccurate data and the lack of relatable role models
- Over 80 per centof companies surveyed reportedhaving I&D as part of senior leadership conversations
- 50 per cent have an I&D strategy in place
- 45 per centof companies have been identified as'on the starting blocks'andhave yet to formally set out their stall on I&D. Reported barriers included dealing with the current crisis and the struggle to get business leaders to prioritise the issue.
- Only 40 per centof respondentshavetargets that measure progress
- Over 90 per centsaidgender diversity forms part of their I&D plans
Susan Barratt, chief executive of IGD, said: "As the largest consumer-facing industry and largest private sector employer, the need for our industry to lead the inclusion and diversity agenda is significant.
She added: "Despite what has been a very turbulent year,there is vast evidence to suggest that an inclusive and diverse organisation will help organisations prosper in the future.
"Our insight gained from our conversations with senior leaders reveal that many recognise that consumers, employees, investors and trading partners are increasingly expecting them to demonstrate strong I&D values and plans that align with this.
"Our aim is to help businesses share best practice, which will guide organisations to develop the right strategy.
"We are determined to make sure we keep the conversation going. I&D is a journey for the long term."
The industry survey identified three tiers to highlight where companies currently sit, according to their I&D strategy progress. IGD has developed a framework based on common characteristics identified via the survey and formed action points that can be used to benchmark and support leadership discussions:
'Sprinting ahead'(30 per cent): these are typically companies which have prioritised I&D at the very core of their business for over three years.
'Up and running'(25 per cent): companies in this tier have found this year to be a catalyst to kick- start their strategy, have created opportunities to listen to employees across all parts of their organisation and they are starting to implement training plans.
'On the starting blocks'(45 per cent): this group is still on the starting blocks and have yet to formally set out their stall on I&D. For many, both internal and external pressure is building to act.
As part of this commitment, IGD is working with the industry to support the development of diversity strategies. It has developed a 10-step checklist for businesses:
1. Define what I&D means for your organisation
2. Identify your strengths and priorities for improvement
3. Lead from the top
4. Set targets and measure progress
5. Foster an inclusive culture and mindset
6. Educate and support your line managers
7. Identify and prioritise interventions
8. Share success stories
9. Learn from others
10. Keep I&D high on your organisation's agenda
To mark the launch of the new research report, IGD recently conducted a live panel discussion and Q&A session involving directors from Compass and Premier Foods among others.
The session was attended by 45 HR professionals in the food and consumer goods sector, who were able to gain practical advice, hear how companies are overcoming common challenges and the lessons learnt, and understand how they can benchmark their company's plans against IGD's new industry survey.
The discussion is available to watchhere.