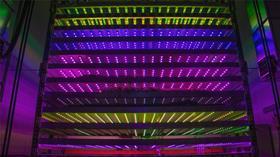 Scotland's vertical farm pioneers Intelligent Growth Solutions has been backed by major agri-food investors to the tune of £5.4million.
The funding round, led by US-based S2G Ventures, will help IGS deploy their technology worldwide, according to the tech firm. San Francisco's online venture capital firm AgFunder, and the Scottish Investment Bank also helped raise the funds for the enterprise.
IGS say the funding will create jobs in areas such as software development, engineering, robotics and automation, as well as helping it increase product development such as AI, big data and the Internet of Things.
The company supplies state-of the-art "plug-and-play" vertical farming technology to indoor farms, developed on its Dundee site next to its partner The James Hutton Institute.
IGS chief executive officer David Farquhar said: "We are thrilled to have the backing of the world's leading agri-tech investors and the Scottish Investment Bank. We have recruited a world-class international management team, to be announced soon, to drive our plan forward with support from a board of senior international business people bringing industry expertise and best practice governance to the table.
"This industry is just at the starting line and we look forward to working with our customers, partners and colleagues at the James Hutton Institute to enable the highest quality produce to be grown at economically viable prices and help feed the burgeoning global population."
IGS' Dundee site currently boasts four towers of growing beds, used in trials to predominantly produce a variety of herbs. When it comes to indoor farming, Farquhar describes it as "the most advanced solutions in the world".
Managing director of S2G Ventures, Sanjeev Krishnan, said the company was "excited" to "help enable this emerging movement".
"Indoor agriculture production is at a tipping point. Grocery and food service firms have never been more interested in adopting this in their future supply chain. Cost and quality of product will be critical to scale this adoption. IGS's revolutionary technology has proven itself to reduce power consumption, improve ventilation and hence reduce the capital and human costs to deliver fresh and differentiated products to consumers," he added.
IGS' neighbours, The James Hutton Institute, were quick to congratulate the company, describing it as "hugely exciting" for Scottish agriculture.
Commending IGS on their funding success, Professor Colin Campbell said: "Many congratulations to everyone involved at IGS. There have been fantastic synergies coming out of the combination of the IGS technologies and Hutton's cutting-edge plant science and collaboration. There are genuine potential game-changing opportunities both for new and conventional horticultural and agricultural systems that can come from our collaboration.
"The fact that Scottish innovation and Scottish science have again led the world with something that has massive economic potential locally, as well as globally, with benefits for the environment due to more efficient energy, water and nutrient use is hugely exciting."