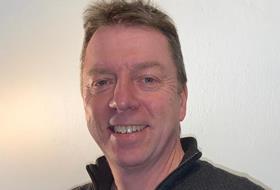 Glasshouse and energy specialist CambridgeHOK has appointed horticulture tech consultant Steve Edwards as its new indoor farming and research engineering manager.
Edwards has more than 10 years' experience of working within the sector and specialises in LED horticulture lighting systems, the design and engineering of indoor farming facilities and the development of hydroponic and aeroponic growing systems.
He has designed and developed systems and solutions for universities, research organisations and commercial horticulture clients, establishing his own successful businesses supplying the sector in that time.
Edwards will form part of the expanding engineering division, led by recently recruited Dr Ian MacKenzie."We are delighted to have added Steve to our team as he fits perfectly with our innovation and engineering-led approach,' said John Holland, managing director at CambridgeHOK.'He is a highly-experienced horticulture specialist engineer with a track record of innovation throughout his career. We know the quality of Steve's work, which is always entirely focused on giving the best support to growers and going that extra mile to offer something others don't.
"Steve was an early pioneer of broad-spectrum LED grow lights which were sold and installed into many organisations in the UK including universities, research institutions and commercial growers. He has exceptional expertise in hydroponic grow systems and indoor farm units, which is an expanding area of our work."
Edwards said the opportunity to be involved in research and vertical farm projects was a particular attraction of the role. "This is an exciting new venture for me and I am thrilled to be joining a firm which has really established itself as a leader in the field in the UK," he added. "I think the work being done in the vertical farming sector is particularly impressive. The market has long talked about vertical farming really taking off in the UK, but it hasn't really delivered. CambridgeHOK is delivering now though and leading the way. That makes it a very exciting time.'