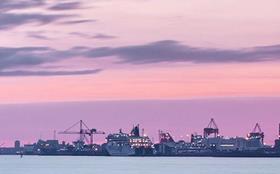 Industry bodies from across the British food and drink sector have written an open letter to various government departments calling for "frictionless" tariff-free trade with Ireland to continue post-Brexit.
The joint letter – signed by the likes of Ian Wright from the Food and Drink Federation, Nigel Jenney of the Fresh Produce Consortium and Terry Jones from the NFU – stresses the importance of the Republic of Ireland as an EU trading partner, with nearly a fifth of the UK's food and drink exports going there.
The letter – which has been shared with press offices and key contacts at Defra, the Department for Exiting the European Union, the Department for International Trade, the Treasury, the Department for Business, Energy and Industrial Strategy, and HMRC – also highlights the need for the free movement of goods and workers between the two countries to continue.
The authors urge that "disruptive customs barriers, port health controls and other costly bureaucratic requirements that impede the movement of goods and workers" are avoided. Such measures "would disrupt established supply chain networks that operate across the UK and Ireland and would cause significant economic damage while adding to existing food price inflation faced by consumers," the key players in the industry warn.
If new customs requirements cannot be avoided, "continuity and predictability" must nevertheless be prioritised, so as to avoid a "cliff-edge scenario that results in a sudden transformation to our trading arrangements." This would be "hugely damaging for our industry and for the wider economy on both sides of the border," the letter warns.
So far, the food and drinks industry says it is pleased to see the Prime Minister seeking a frictionless border between the UK and Ireland post-Brexit, but the signatories stress the importance of quickly resolving future border arrangements once Article 50 is triggered.
Other chief executives to have signed the letter include Helen Dickinson of the British Retail Consortium; James Bielby from the Federation of Wholesale Distributors; David Caffall of the Agricultural Industries Confederation; and David Camp of the Association of Labour Providers.