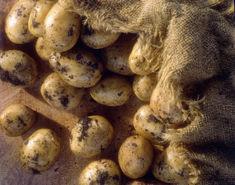 Increasing potato imports from the UK are putting Irish growers under presssure, according to a survey of the industry by the Irish Farmers' Association (IFA).
Another threat, it says, is the price squeeze on producers imposed by the Republic's three main multiples - Tesco, Dunnes and the Musgrave group - which together control almost 80 per cent of the Irish retail trade. As a result of their "aggressive tactics" in the battle for market share, it claims that producers get just 30 per cent of the final retail price.
More than 50,000 tonnes of fresh potatoes are imported into the Republic annually, the survey found. "A significant quantity of our main varieties - Rooster, whites, Kerrs Pink - are now grown in the UK. This creates a two-fold problem - firstly, the imports reduce the size of our market here and secondly, the imports result in constant emphasis on the UK price, which is generally lower than the Irish one."
To counter the imports threat, the survey recommends "an audited and traceable branding system" that would identify home-grown potatoes, plus marketing and targeted promotions to increase consumption of fresh potatoes rather than processed products such as frozen chips and french fies, which are also imported.
The survey repeats the IFA demand for a statutory code of practice for the retail trade, policed by an ombudsman, to ensure a fairer relationship with the multiples, together with the establishment of more producer groups to strengthen growers' bargaining power. It denounces the use of potatoes as loss leaders by the multiples, which it says undermines their retail value, leaving the grower with prices below the cost of production.
It also expresses concern that some merchant/packer companies holding supermarket supply contracts are also significant potato growers, putting them in direct competition with regular producers. It recommends that this arrangement be reviewed to improve price transparency and ensure a viable return to the grower.
Meanwhile, the industry is reporting a good harvest for the second successive year. The one black sport is Donegal, where much of the crop is still under water as result of flooding. horticulture minister Shane McEntee, who recently inspected the damage, heard calls for special state assistance for those affected.