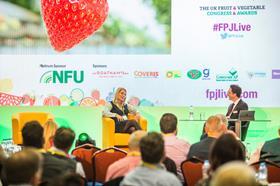 Berry Gardens chief executive Jacqui Green is leaving the business, FPJ has learnt.
Green has been in the top job at the Kent soft-fruit co-operative since replacing Nick Marston in May 2017, having been promoted from sales and procurement director.
She was previously general manager at Bakkavor and commercial director at Capespan, among other roles.
A Berry Gardens statement said: "It is with regret that we inform you that Jacqui Green has decided to leave Berry Gardens to pursue new opportunities. Jacqui has played a pivotal role in shaping our future plans and I am sure you join me in wishing her well for the future.
'We are delighted to announce that Nick Allen, our current COO, has agreed to become acting CEO during the transitional periodand we would ask all of our stakeholders to give your full support and co-operation to Nick and his team during this time."